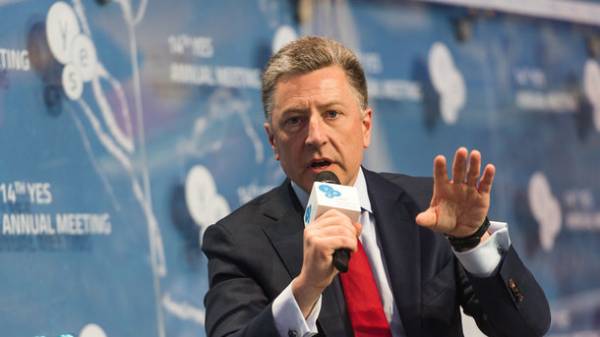 The special representative of the US State Department in the negotiations on Ukraine Kurt Volker said that the United States do not prepare their own document, at the initiative of the UN peacekeeping mission in the Donbass, but ready to discuss the principles of the mandate of such a mission.
"No, we do not prepare your own document, Russia has been offered, it is, as I said earlier, it doesn't do all that needs to restore the integrity of the country, rather, strengthens the division," he told reporters at a briefing in Kiev on Saturday.
The special representative noted that the withdrawal of Russia from this initiative interesting opportunity of discussing and carrying out discussions on the level of the UN security Council.
"There are discussions. Russia has proposed its idea in new York. We in the security Council, Ukraine in the security Council, France, Germany, Sweden and others – we talk about it, talk on this subject in new York next week", – assured Walker.
He previously said that he intends to meet with Russian presidential aide Vladislav Surkov.
"More important at this stage – to form the principles (of the mission's mandate – Ed.)", special representative said.
Yalta European strategy (Yalta European Strategy, abbreviated as YES forum) is an annual conference organized by the Victor Pinchuk Foundation.
The conference gathers the most influential politicians and businessmen of Ukraine and the world, it has been held annually since 2004.
HELP
Yalta European strategy YES: what you need to know
The aim of the conference is the development of Ukraine and its European future, as well as establishing international ties.
The founder of the Yalta European strategy, Victor Pinchuk, a prominent Ukrainian businessman and philanthropist.
Comments
comments