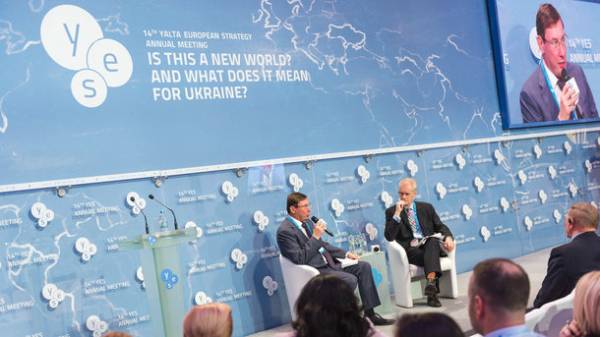 The General Prosecutor of Ukraine Yury Lutsenko assures that the leader of the party "movement new forces", the former head of the Odessa regional state administration, ex-President of Georgia Mikheil Saakashvili will not be expelled from Ukraine and will not be arrested in connection with the incident on PP "shehyni", which occurred September 10.
"I as the attorney General clearly you say, Saakashvili will not be arrested in the case, Saakashvili can not be extradited from this country until he has a certificate of residence or other documents which he has filed," said attorney General during the 14th annual meeting of the Yalta European strategy (YES) "would the world be new? And what does it mean for Ukraine?" in Kiev on Saturday.
Also Yury Lutsenko expressed hope that Saakashvili will arrive in Kiev only to apply to the court.
"I hope that he comes to bring the application to the court. This is the only legitimate and normal way of solving this dispute on citizenship. Have questions about the decree of the President of the court. In any civilized country the citizen is dissatisfied with the decision of the public authority goes to court. This is a special platform set up in order to find the truth. In our country used to go where? On The Square! It is also possible, but then must the court", – said Lutsenko.
Earlier, Yuri Lutsenko said that the investigation in almost all cases with respect to the environment the former President of Ukraine Viktor Yanukovych.
Yalta European strategy (Yalta European Strategy, abbreviated as YES forum) is an annual conference organized by the Victor Pinchuk Foundation.
The conference gathers the most influential politicians and businessmen of Ukraine and the world, it has been held annually since 2004.
HELP
Yalta European strategy YES: what you need to know
The aim of the conference is the development of Ukraine and its European future, as well as establishing international ties.
The founder of the Yalta European strategy, Victor Pinchuk, a prominent Ukrainian businessman and philanthropist.
Comments
comments