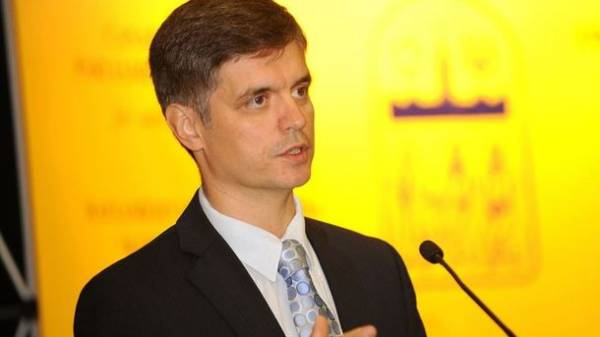 Ukraine is negotiating with allies to start working on the action Plan for NATO membership in the future to consider the possibility of joining the ranks of the Alliance.
This was the "Today" in the margins of the annual conference Yalta European strategy (YES) in Kiev, said the head of Ukraine's mission to NATO Vadim pristayko.
"During the North Atlantic Council in Ukraine (in early July – ed.), the President of Ukraine has proposed to start a conversation about how Ukraine to start joining the map. This is now the stage where we are. We are allies for talks on how Ukraine can start working on this Plan in the future to consider the possibility of accession", – said the "Today" Pristayko.
SEE ALSO
Kuchma YES: Lethal weapons will not provoke Russia's aggression
Commenting on the theme of the UN peacekeeping mission in the Donbass, the head of Ukraine's mission to NATO said that the Russians submitted to the UN security Council their resolution that, in principle, reduces the scope of the UN security Council now to consider other options.
"We some time working to bring our positions closer cooperation and consultation with our partners. The Russians, I wouldn't be surprised if they (by registering its resolution – ed.) made purposely to disrupt the process, immediately threw the paper, which contains items, which we absolutely are not satisfied. So we don't want to get his text to oppose one document to another. We want to find common ground in the security Council and in the UN, and then this consolidated text is ready to move on. It can take months, depends or even this resolution will be supported. And we must not forget that as if we didn't like it, but Russia is one of the permanent representatives of the security Council", added Pristayko.
Yalta European strategy (Yalta European Strategy, abbreviated as YES forum) is an annual conference organized by the Victor Pinchuk Foundation.
The conference gathers the most influential politicians and businessmen of Ukraine and the world, it has been held annually since 2004.
The aim of the conference is the development of Ukraine and its European future, as well as establishing international ties.
The founder of the Yalta European strategy, Victor Pinchuk, a prominent Ukrainian businessman and philanthropist.
Comments
comments