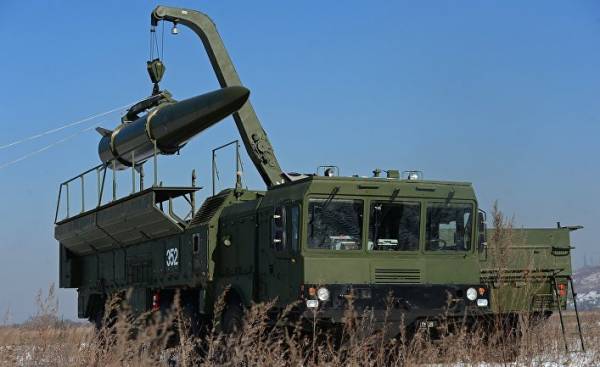 A few days ago in a speech to soldiers in the occupied Nagorno Karabakh, the Armenian President said that "not batting an eye" give the order to use missile complexes "Iskander".
Following this, the Armenian General Arkady Ter-Tadevosyan told reporters that Armenia has prepared a map with the designation of 12 sites in Azerbaijan, which the Armenian side could launch a missile attack.
"I have a map marked with 12 points, where people do not live, but there are important engineering infrastructure. And, if you hit these places, you can cause significant damage," the Armenian General said.
Military rhetoric in Armenia is growing in connection with approach of date of parliamentary elections. Traditionally, the ruling clan of Sargsyan is using war rhetoric in order to attract additional votes.
Armenia has decided to go beyond empty declarations and pulled missile complexes "Iskander" in a fighting position. Armenian Yerkir Media channel today gave a preview of teachings of the Armenian army with the use of complexes "Iskander". A report will be put on the air on Saturday evening.
According to the announcement, the two mobile platforms with missiles "Iskander" moving toward a military test site, located in Armenia or even in the occupied Nagorno Karabakh. The video also shows how Armenian soldiers lead missile systems in combat readiness.
A video was shot in Armenia and / or Nagorno-Karabakh, it is impossible to determine, however, we cannot exclude the fact that the missiles are already deployed in the occupied territories of Azerbaijan.
Threats to the Armenian General Arkady Ter-Tadevosyan in Baku said Colonel Shair Ramaldanov. In an interview with state news Agency AzerTAj Shair Ramaldanov said that the most modern missile and artillery systems, the armament of the Azerbaijani army is able to bulldoze all the strategic and military sites in Armenia.
"In the last days of the Karabakh clan in Armenia intensified. The reason for this development was the desire to support the Armenian authorities in the pre-election period. Such statements they try to earn maximum dividends," said Colonel Ramaldanov.
"That will struck 12 human settlements and goals, why not 14-15 or 20 goals? All of our facilities are securely protected from attacks from the air. Air defense forces of Azerbaijan is considering all possible threats and take appropriate measures to prevent them. At issue is their ability to do something about these objects," said Colonel Ramaldanov.
Colonel Ramaldanov said that in the event of a strike on the Metsamor nuclear power plant Armenia will become a desert for several centuries.
"Armenia's ruling regime, claiming that the "Iskander" missiles will be hit in 12 of our points in other ways as well understand that most modern missile and artillery systems, the armament of Azerbaijan, can bulldoze the strategic and military sites not only in the occupied territories, but also in Armenia itself. Simply turn the target Metsamor nuclear power plant. And if that happens, Armenia will not be able to live several centuries. If this plant will be hit, what will become of Armenia, which will survive the tragedy? It would be helpful if those who are foaming at the mouth screaming "Iskander, Iskander", first thought to that," said the Colonel Ramaldanov.
Comments
comments