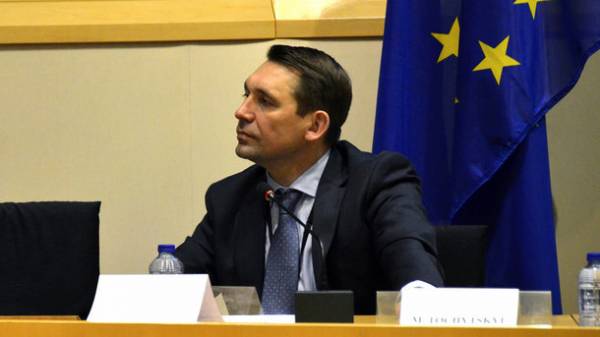 Ukraine will not go on the compromise in its sovereignty over the Crimea and agree only on the introduction of a mechanism of de-occupation of the Peninsula, initiated by the President. This is stated in the article of Ukrainian Ambassador to the EU Nikolay Tochicago in the edition of Euractiv.
The article was a response to Euroactiv and Reuters published a column by former project Manager, USAID Josh Cohen, in which he urges US to abandon the idea of supplying Ukraine with lethal weapons and to remove from the agenda the possible future membership of Ukraine in NATO, because it would anger Moscow.
Ambassador of Ukraine reminded that the non-aligned status of Ukraine in 2014 did not prevent Russia to invade Ukraine and occupy parts of its territory.
However, the most impressive in the article, according to the Ambassador, is a cynical proposal of divided sovereignty over Crimea, or monetary compensation to Ukraine for the occupied territories, as well as the idea of easing sanctions against Russia in exchange for the offer of the restoration of the Donbass.
Ambassador of Ukraine stressed that Ukraine's territorial integrity is not negotiable.
"The only possible solution, which I agree Ukraine is the restoration of the territorial integrity and sovereignty of Ukraine over Crimea, which can be achieved by introducing an international mechanism of de-occupation, initiated by the President of Ukraine Petro Poroshenko for the peaceful departure of Russia from the Crimea", – said Tochitskii.
With this aim, Ukraine will apply all available tools of international law, the Ambassador noted.
SEE ALSO
The EU does not recognize elections held by Russian Federation, "the Governor" of Sevastopol in the Crimea
"The occupation of the Crimea is not just a violation of international law. The Peninsula has become a gray area for human rights and a territory of fear," writes Tochitskii, Recalling the recent case of a sentence to 8 years made Deputy Chairman of the Mejlis, Akhtem Chigos.
"It is obvious that Russia is not going to withdraw from Crimea itself. We have to get her to do it. We need to strengthen international diplomatic and political pressure on the aggressor to restore Ukrainian sovereignty over the Crimea", – said the Ambassador.
In this context, he called for tougher sanctions for participants of the "elections" in the occupied territories and those involved in human rights violations in the Crimea.
Recall, German Chancellor Angela Merkel, commenting on the issue of illegal annexation of the Crimea by Russia, remembered the story of the division of Germany.
Comments
comments