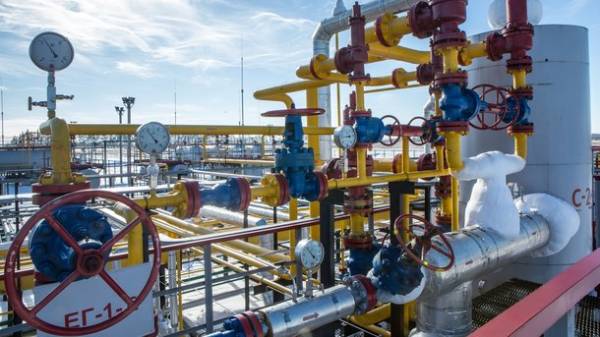 Almost a quarter of a century ago appeared in Ukraine professional holiday — Day of oil, gas and petrochemical industry. Day Gazovik than to simply call it industry workers, celebrated annually the second Sunday of September. "Today," visited the unique for Ukraine Machukhske the gas treatment facility, where they understand the intricacies of a difficult profession and learned how the daily work of gas will help in the future to achieve our country's independence.
Gas industry of Ukraine has its roots in the last century. In 1921 in the small village of Dashava, in the South-East of Lviv region, was launched the first gas well, and only a few years there was commissioned a gas pipeline to Kiev. By the way, with Dashavske field in 1945 he began the world's first inter-state supply of gas to Poland. Over time the transmission system more and more tightly entangled our country, transforming the industry into one of the most important engines of the economy.
Today the oil and gas sector generates about a third of all tax revenues in the budget of Ukraine. Only for the first half of 2017, these taxes, compared to the same period last year increased by almost UAH 16 billion, amounting to UAH 57.6 billion! A significant role is played by the largest private gas company "DTEK oil & gas". To get acquainted with the production and mining process, we visited one of the three gas treatment facilities of the company. She is so high, that it is unparalleled in Ukraine.
Machukhske UPG located half an hour from Poltava, lost silver spot in the middle of fields and forests. Appearance — nothing special: gray intricacies of pipe spaces and marked in red tanks. The magic hides inside, though without explanation of the workers to notice her is quite difficult. At the entrance we get the passes, listen to the safety instructions (with abnormal pressure and an increased risk of fire not to be trifled with), put on helmets and go to get acquainted with the "Machoy" and her staff. As our guide serves technologist Alexey Shiyan. A young man working in the area the year before that was extracted hydrocarbons in Kuwait, which accounts for almost a tenth of all the world's oil reserves.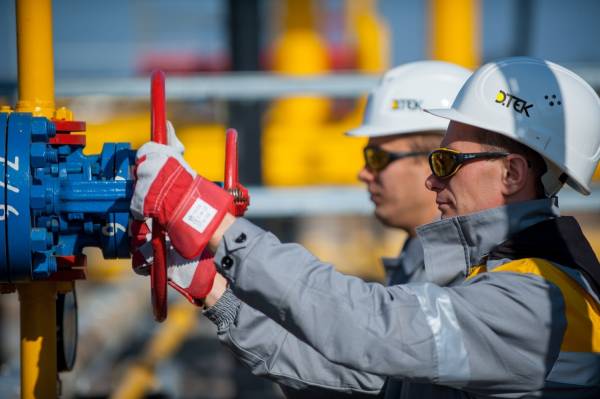 At work. You have to monitor up to 300 parameters
"When I came here, just began the modernization of the site, he admits. — It happened before my eyes. Due to the reconstruction it was possible to increase the plant capacity from 1.2 to 2 million cubic meters of gas per day and to build a new line of gas preparation for transportation".
From the first minutes of communication it becomes clear that "Macuha" Shiyan can tell long and detailed. Mining is conducted at depths greater than 5.5 km and the total reserves are estimated at more than 5 billion cubic meters of natural gas. The pressure was such that the deepest place on the planet, the Mariana trench, the envy — more than a thousand atmospheres! And this is another distinctive feature Machukhske fields — the complexity of the geological conditions of development here, just beyond, what makes the area unique for Ukraine.
"In this area two wells after the modernization of the gas is distributed in two production lines — one is research and the second "workhorse". In General, one of the objectives of the reconstruction was to increase the throughput capacity of the installation. In addition, we implemented an automated control system of technological process on the basis of equipment of Siemens company new generation. It constantly monitors more than 300 parameters of the system status and manages more than 80 tools," says engineer.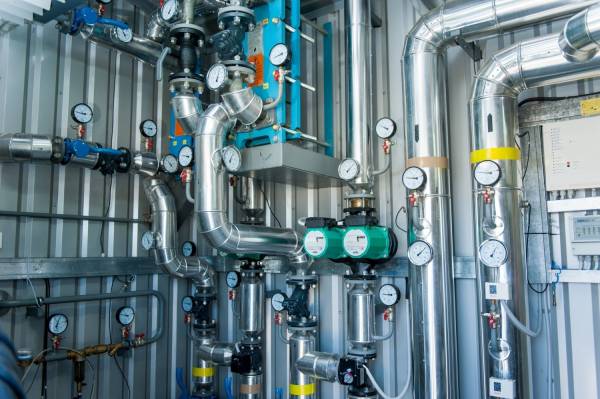 Sea pressure gauges
Control the entire process in just a space number of sensors — ultrasonic and diaphragm meters gas chromatographs, showing in real time the quality and composition, as well as a dozen devices that people without special training not even heard of. Shiyan explains: not every craft is so equipped hi-tech equipment, all information is collected, archived, stored and analysed by the operators of the site. During the tour an experienced technician collected and attentive — or not. This is one of the main precepts of the gas.
"There's a bobble — expect trouble. The work is very serious. In order to cope with this load, one is sure to love his job and put his heart and soul, says after our meeting with "Machoy" Alex. — Another commandment — constant development. There was no day that I have not had to raise its archives of technical literature dealing with something. Especially after the reconstruction to give the result to achieve energy independence, we need constant work on yourself".
According to workers of station, Ukraine has an opportunity not only to provide itself with gas, but all chances to become an exporter of natural gas.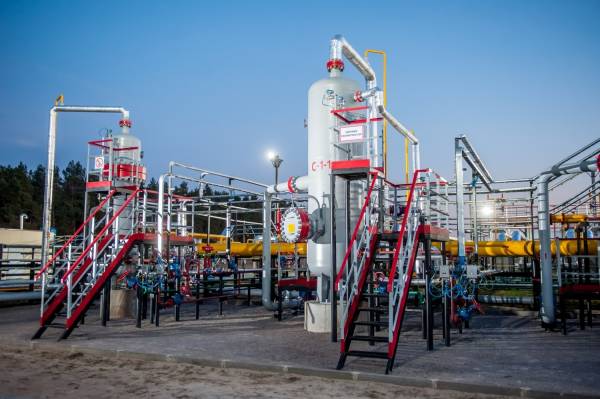 The working section. Due to the reconstruction it was possible to increase the capacity of the plant
Alex Roptanov: "At work I spend 300 hours a month"
Director extraction and processing of hydrocarbons "DTEK oil & gas" — about why gas important continuity as we need to train young professionals and what you need in order to be able to increase gas production
The gas industry is one of those industries where work can only fully loyal career. For example, Alex Roptanov of "DTEK oil & gas". He, like his father, his entire life was devoted to the extraction and processing of oil and gas. But even after almost 40 years of career Alexey Kuzmich spends at work more than 300 hours in a month and I am sure that nobody is perfect and there is always room for work and new victories.
— I was born in family of oil industry workers. My dad, Kuzma Raptanov, was a respected driller. He mastered Mukhanovskaya field in Samara, then extracted hydrocarbons in Syria. When I was a kid and dad is 60 years old, I thought, how such a thing could be — as much as 60 years! But very soon I will meet this anniversary. Like my father, I've spent my whole life in this profession. Dad with us three boys. Senior — to develop fields in Western Siberia, middle — mined in Vietnam. It so happened that I also continued the fate of his father. I work in the company for the fourth year, and during this period we raised production more than three times. When I came here, it was at the level of 500 million cubic meters, and now we produce more than 1.6 billion Is a record amount for non-state companies, and our staff are proud to bring their labor the country to energy independence.
— Probably not to be in the shadow of his father, who achieved success in his career, had to re-pave the road?
— I went from fitter to Deputy General Director of the company. Twice! Was both an artist and a mechanic, and head of the unit, and chief engineer, who was not only! Now the Director for the production of hydrocarbons. And that's because passed these stages, telling young people who work for us: to become a renowned petroleum or gas companies, you need to go through it all. You need to understand how difficult this path is thorny.
What is the most difficult?
— Each step on its own is very difficult. Not always have enough knowledge, so you need to be in good shape. I didn't have enough practice speaking — I graduated from high school lecturing skills. Not enough knowledge of Economics, received the second higher education. It was interesting work in other countries passed training in England and Scotland, to understand how it is done. That is about the school life, I say to our young people.
— What's most important in life of petroleum-gas companies?
— Most importantly — do not be afraid. I had a period when I was offered a new job and I was apprehensive — what if some projects are not successful. But when I moved, I realized it's important to understand that if you set an objective and if you're going to goal, nothing is impossible.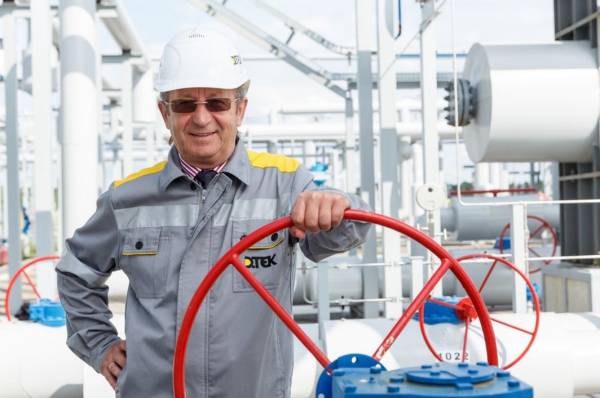 Raptanov. Believes that the limit of perfection in the gas industry no
— It's hard not to be afraid of, given how dangerous this job…
Yes, it's not a dairy farm. We have explosive objects, we have abnormally high pressure. One can only imagine what depths it produces gas! And easy prey will be gone. Therefore, some uncertainty in the beginning is normal. But then when slowly you start to go, to walk, everything turns out all right. Sometimes I ask: "At what stage was the easiest?" But each stage is very complicated, and its going hard. Something was missing — buried in the technical literature with the head, just the head to keep!
— The work certainly occupies in your life a huge amount of time?
— Well, you can count. The working day at me begins with 7:00 and ends somewhere at 20:00. Roughly speaking, this is about 12 hours of pure work. This is in working days. This weekend I will come here at nine o'clock and spend three to four hours. If you take that a month has 30 days, so I'm working around 300 hours per month. A serious burden, but what to do — we work for energy and economic stability of Ukraine. And this is an important goal for our employees, for whom it is important to be an example.
— Show an example?
— Forced to develop — to learn English, to get the second higher education. I really hope that all this will after some time, a very good result not only of the company but of the industry, the country. By the way, one of our greatest achievements I believe established two technical universities Ivano-Frankivsk and Poltava.
SEE ALSO
Groisman told that Ukraine can provide itself with gas of own extraction
In your area, the continuity, transfer of experience is very important?
— As the environment in which they develop young people. I enrolled in a technical University? Not only due to the fact that my dad and older brothers chose this path. I grew up in a small town, two story house, eight apartments. All did the same and after a winter out on Saturdays, brought up the yard. And then the adults took out the tables and that someone was — bread, potatoes, onion, bacon… And we have small children running around and adults have always heard the same conversations. The driver complained that the car he is constantly breaking down, the geologist said he was tired of crawling through rugged places and look for stocks, driller — the equipment is old, the technologist told, which receives the hydrocarbon liquid. We heard it from childhood — mining, oil, and all the… We proudly took it, and almost all the children who lived in the yard, they had no other choice! They went to the Polytechnic Institute, he graduated and began to work in the profession. So I want our young people proudly told about our achievements in the circle of friends. We're committed to a historical event for Ukraine — energy independence.
— You pay a lot of attention to the issue of work with young professionals, I think the contact with the universities achievement. What is important in the new generation?
— When we come to practice students, we always assign them a mentor. It has to be experienced and wise man who also passed the school and awareness of what he will continue. And always, first and foremost, it needs to say that they were lucky with the place where they came from. Lucky with the company, the pride of the whole country. Secondly, we have to show the team working on the result. I do not share responsibility in the job description. I'm all done and ready to lend a shoulder. This is the main thing — to understand that people have come to the best company, best team, to those employees who love and cherish their profession.
In the beginning you talked about increase in production. What's the next bracket?
Our only bar — energy stability of the country, and we will do whatever is necessary for this. But first and foremost you need to understand that this just does not happen. We need constant, intense and important work. Need to work with investors, authorities. To upgrade, to improve, to achieve. And then neither for the company nor for the country will have no boundaries.
Comments
comments