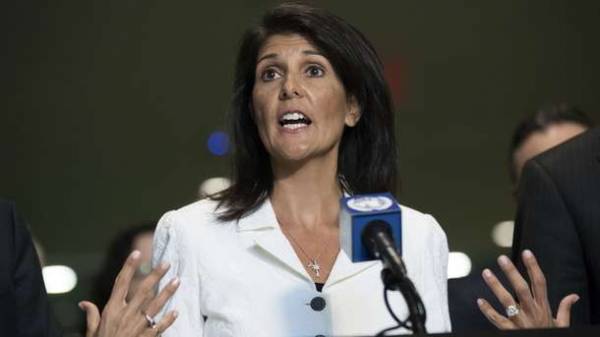 US Ambassador to the UN, Nikki Haley accused Russia and Iran of involvement in the destruction of the Assad regime's population and civilian infrastructure in Aleppo directly calling it war crimes. She stated during a speech in the UN Security Council to protect the rights of people, transmits television channel "112 Ukraine".
"Together with Russia and Iran, the Assad regime has destroyed every hospital in Eastern Aleppo. Each. A quarter of a million people left to suffer. These are war crimes," – said the representative of the United States.
The crimes of Assad are not limited to, continued Hayley. Pro-government forces destroyed entire residential neighborhoods, and the Syrian intelligence service use torture, including "deliberate and systematic torture of children" to get information.
The US representative also noted that these events led to the largest refugee crisis since the Second world war.
In this regard, the American diplomat drew the attention of the UN Security Council on these and other violations, and the need to focus on ensuring the rights of people.
Recall that in the course of the war in Syria began the new attack on Eastern Damascus. Insurgents and jihadists began to attack the position of the regime of government with car bombs.
Earlier, Russia, Iran and Turkey and the UN at the meeting in Astana agreed to establish a tripartite mechanism for monitoring observance of the truce in Syria. Despite the agreement, hostilities on the territory of the state do not stop.
Russia conducts military operations in Syria in 2015, after he received permission from the Federation Council to use Armed forces to combat terrorist groups.
Iran's involvement in the Civil war in Syria began in 2011, where Iranians act as consultants, security personnel, special forces and are directly involved in the battles.
Comments
comments