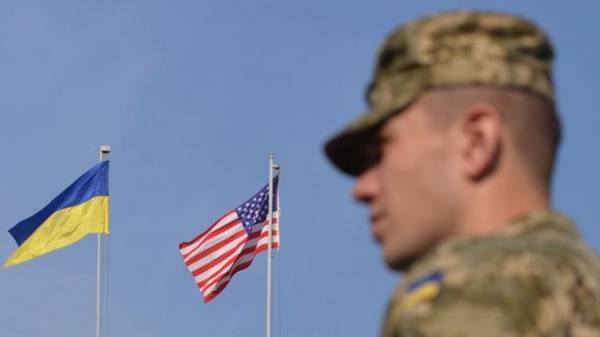 A group of US military personnel arrived on the airfield of the brigade is to them.Peter Franco's Air forces of Armed forces of Ukraine, where the Ukrainian-American command and staff exercises "Rapid Trident – 2017" will hold a range of theoretical and practical exercises, the press service of the defense Ministry of Ukraine.
"In the framework of the Ukrainian-American command post exercise "Rapid Trident – 2017″ overseas partners from one of the air bases of the United States of America arrived in the Ukrainian land with the aim to teach Ukrainian colleagues-aviators methods of interaction with other branches of the military under various conditions," – said in a statement released on Friday evening on the website of the defense Ministry reported.
On the base airfield of the brigade of the American experts will carry out a number of theoretical and practical classes on medical preparation, in particular with aeromedical evacuation and transport and airdropping of cargo and personnel.
"The training will generally increase the level of combat training of Air forces of VS of Ukraine and the Armed forces of Ukraine in whole", – stressed in the defense Ministry.
As reported, in January the President of Ukraine Petro Poroshenko signed approved by the Verkhovna Rada law on approval of the decision on the admission of divisions of armed forces of other States on the territory of Ukraine in 2017 to participate in multinational exercises.
SEE ALSO
Ministry of defence: exercise Rapid Trident-2017 Ukraine – not the opposition of Russia
According to the law, in the framework of the "Rapid Trident-2017" it is proposed to admit the territory of Ukraine in June and November 2017 for up to 25 days up to 2 thousand soldiers of the United States, other States members of NATO and States participating in the program "Partnership for peace" with weapons and military equipment, up to 6 aircraft, 10 helicopters. The exercise, which will take place on the Yavoriv training ground in Lviv region in June-November, were to participate up to 3.5 thousand soldiers, of which up to 1.5 thousand from the APU, 1 thousand from US forces and yet the same from other member States of NATO and the States-participants of the program "Partnership for peace".
August 10, 2017, defense Minister Stepan Poltorak said that in the international exercise "Rapid Trident-2017" ("Rapid Trident – 2017") will take part more than 2,5 thousand troops from Ukraine and 14 countries of the partners.
We will remind, the international exercise Rapid Trident-2017 will be held in the Lviv region from 11 to 23 September.
Comments
comments