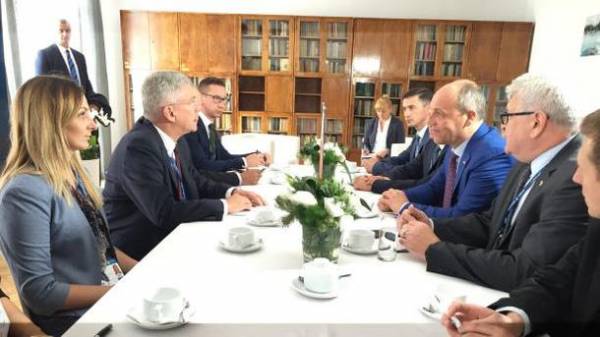 Image of the Memorial Eaglets in Lviv will not be in the new design of the Polish passports, which is scheduled for release in 2018 for the centenary of the independence of Poland. This was after a meeting with Marshal of the Polish Sejm Marek Kuczynski in the framework of 27-th Economic forum in Polish Krynica-zdrój, said the speaker of the Verkhovna Rada Andrew Parubiy.
According to him, Ukraine and Poland will not allow for crisis situations that could worsen relations between the two countries.
SEE ALSO
The passport scandal at the Ministry of foreign Affairs of Ukraine invited Poland out of the situation
"Of course, I am keenly expressed their reservations (during a meeting with Kuchinsky – Ed.) about the images on the passports. I don't want to disclose the details of confidential conversations. I am convinced that these images will not appear in the final decision – they will not be in passports. I am convinced that the crises that sometimes occur between our countries, we are able to take care of. And I think this time we will not let any crisis situation could worsen our relations," – said paruby.
Recall that in 2018, the centenary of independence in Poland will be issued a passport in the new design. In its pages, among other images, is a memorial of Eaglets in Lviv. Also consider the possibility that on one of the pages displays an image of the Holy gates, located in Vilnius (known as Gate of Dawn or Sharp gate). Lithuania and Ukraine have responded to this challenge by the Polish ambassadors to protest delivery notes.
Comments
comments