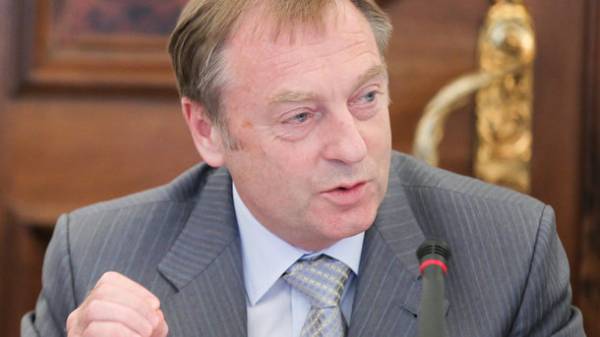 Ex-Minister of justice Oleksandr Lavrynovych on 7 September the Prosecutor General's office of Ukraine handed over the suspect to the seizure of power in 2010. I told myself Lavrynovych once out of the GPU, transfers "112 Ukraine".
"It was investigative action, awarding me with suspicion. Do not ask during this," he said.
The former Minister of justice said that the GPU incriminates him, namely the seizure of power and not a coup. He, according to the lawyer, threatens till 15 years of imprisonment.
"The main reason for my appearance here today is the interpretation that the constitutional court's decision can not be made, moreover, whom it concerns," – said Lavrynovych.
The GPU previously explained that the constitutional court in 2010 declared unconstitutional a 2006 law, which was supposed to amend the Constitution of 1996.
"The subject that violated the Constitution during amendments, according to this scientific development is determined by the only entity that has the right to correct his mistake," – said the former Minister.
SEE ALSO
Suspicion Yanukovych and Lavrynovych: the Ministry of justice announced the details
As you know, Lavrynovych issued a judgment and, according to the prosecution, it was legitimate. However, Lavrynovych also illegally, without authority, undertook an official publication of the preliminary text of the Constitution of Ukraine to help Yanukovych to expand the powers, I believe in the GPU.
"If the court establishes the unlawfulness of any act or action, then it must be correct the person who committed the offence. This is set out the logic," explained Lavrynovych.
Thus, in 2010, bypassing the Verkhovna Rada was returned to the old Constitution (of 1996), although the change of wording of the Constitution lies entirely in the plane of powers of the Verkhovna Rada.
Lavrynovych also added that the issue of election to it measures of restraint in day of delivery of the suspect was not discussed.
We will remind, today the Prosecutor General Yury Lutsenko declared that ex-the President Victor Yanukovych and ex-Minister of justice Oleksandr Lavrynovych informed about the suspicion the seizure of state power in Ukraine through constitutional coup in 2010.
In turn he Lavrynovych said that the amendments to the Constitution was not a violation, and the execution of functional responsibilities.
Comments
comments