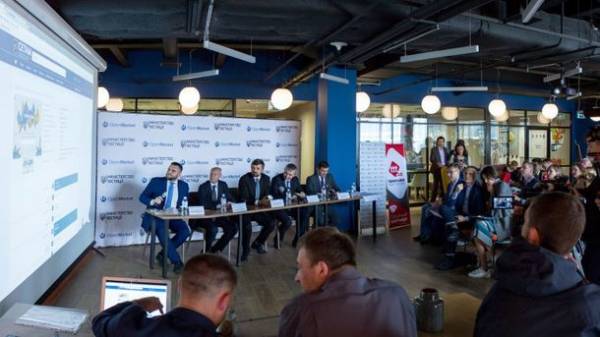 The state-run System of electronic auction of seized property (SETS) held the first auction in the world using blockchain technology, which makes it impossible to change data in the system.
The CEO SETS Victor Vishnev noted that the first phase of implementation of the blockchain technology in an auction system will be recorded only information about the rates, and in the future will be fixed and bids, and entering all the information that may be contained in the system.
"This is the first step. Today we are going to keep rates, the consistency, the size of the bets. In the future, will be fixed and bids, and entering all the information that may be contained in the system," said vyshniv.
He also said that to check the accuracy of the information on the site blockchain.gov.ua.
To create a platform blockchain was chosen EXONUM international company BitFury Group. Co-founder of BitFury, Valery Vavilov noted that at this stage, the bidder can check your data in the future will be able to check other auction participants.
"You can be sure that your data is entered into the database that they have not been changed. The next step is to check the possibility of other participants, including to ensure that the inability to change data retroactively. This ensures 100% integrity," he said.
Vavilov added that the objective of the project is to show that the system can be implemented in other projects of the state level.
We will remind, on June 8, the SETS and the national Agency for e-government in Ukraine signed the Memorandum with the international company BitFury Group is about bringing new technologies to improve the reliability and efficiency of electronic trading.
On blockchain technology founded the world's most popular digital currency Bitcoin, and other cryptocurrencies.
SEE ALSO
The NBU explained, what is the status of Bitcoin in Ukraine
The Blockchain is a way of storing digital data or a register of transactions, deals, contracts. When using digital records are combined into blocks that are then cryptographically contact and chronologically in the chain with the help of sophisticated mathematical algorithms. The encryption process is performed a large number of different computers on the same network. Once the registry is updated and formed a new unit, it can not be changed. Thus, it is impossible to fake. Any user of this network has free access to current versions of registry.
Comments
comments