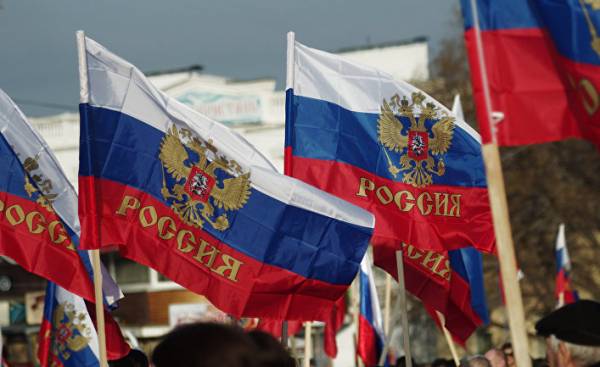 OSLO — "Recently, Donald trump said that he expects that Russia will return Crimea to Ukraine. This will never happen. But I think trump thinks like a businessman, and I will try to make agreement for Eastern Ukraine was signed," says Steinfeld (Hans-Wilhelm Steinfeld)in an interview with Nettavisen.
The Nettavisen reporter met him in connection with the morning meeting at the Agency communications Corporate Communications when he interviewed the Minister of foreign Affairs børge Brende.
Steinfeld, remains optimistic and thinks that the issue of sanctions can be solved in a relatively short period of time.
"In 2014, I said that I think that sanctions will last for three years. Now, when the US President was trump, Putin may hope that 2017 will be the year of lifting of sanctions. But let's wait and see," he says.
"A clear position"
In addition to the Crimea, Russia and Ukraine conflict over the Russian-speaking Eastern Ukraine. But it is believed that this conflict was not deadlocked, in contrast to the "Crimean question", which recognizes the Brand.
"If we talk about Eastern Ukraine, from the point of view of real politics, there's a realism about the fact that the solution to the problem will soon be possible, more than the issue of Crimea," says the Brand Nettavisen.
However, it is clear that Norway did not lift sanctions against Russia until it leaves Crimea.
"Our position is clear: in the 21st century you can't just Annex part of another country, we can't accept this," says the Brand.
"We also did not recognize the annexation of the Baltic States during the cold war. Now the Baltic States became free," says the Brand.
When Yeltsin was drunk
Steinfeld refers to the fact that Crimea is 70% Russian populated, and therefore Putin will never abandon it.
Steinfeld, says that the only reason that Crimea after the collapse of the USSR all became a part of Ukraine, was then-President Boris Yeltsin. The fact that the talks with Ukrainian President Leonid Kravchuk and Yeltsin, who liked to drink, vodka was too much.
"Kravchuk told later that Ukraine was ready to give the Crimea to Russia. But during the negotiations Yeltsin so "typed" that you forgot to mention Crimea," says Steinfeld, who visited Sevastopol in the Crimea as a reporter for Dagsrevyen (the big daily news program on the Norwegian TV channel NRK, — approx. ed.) right after it became known about the decision.
"People were furious due to the fact that Yeltsin did," says former correspondent in Russia.
Comments
comments