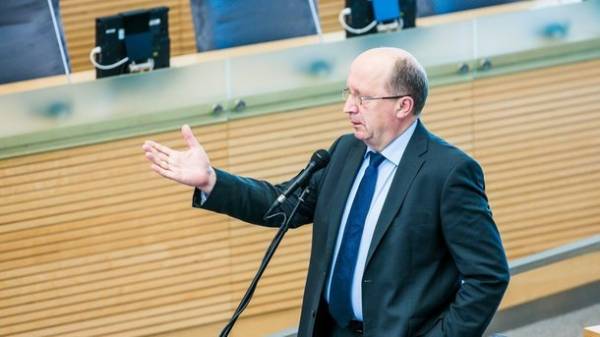 In the second day of the 27th annual Economic forum in Polish Krynica-zdrój, former Prime Minister of Lithuania and current member of the Seimas Andrius Kubilius will present the Lithuanian Plan for Ukraine for 2017-2020. This is an analogue of the famous Marshall Plan, which Secretary of state George Marshall proposed to restore the postwar economies of Europe. In 1948-1951 gg. with his help managed to not only raise post-war economy of 16 European countries, including West Germany, with the knees, but to stop the spread of "Soviet plague".
Lithuanian Marshall Plan for Ukraine, or as the authors call it "the New European plan for Ukraine", is designed not only to help Ukraine to overcome the acute economic crisis, but also to get rid of Russian influence. In mid-June, in an interview with "Today," Andrius Kubilius have been told that along with Ukrainian colleagues he was going on a tour of European capitals. Three months later, he said, they managed to tour almost all of Europe from Berlin to London, and even visit the ocean. And the result exceeded their expectations. Europe is ready to help Ukraine. Plus in the final stages of development of the technical plan is a Supplement to the Marshall Plan for Ukraine, which would include three priority investment areas. At the Economic forum in Krynica the correspondent of "Today" have asked the Andrius Kubilius, when the EU can formally approve the investment plan of assistance for Ukraine and that Brussels is ready to allocate money.
– A couple of months ago when we talked, You were going in a tour of European capitals with a Marshall plan for Ukraine. Thanks again for Your initiative. Tell me where it was, who said "Yes" to investment in Ukraine?
– We have traveled many capitals, Washington, Berlin, Brussels, London. Now we plan to go to Paris, maybe Rome and Berlin again. I will say that we see a positive understanding of the philosophy of which we speak. This philosophy that if Ukraine does not receive the prospect of EU membership in the near future, but it is not very realistic, Putin can win with his strategy and return to Ukraine its political dominance. As opposed to his strategy we need to have a strategy. If this strategy there is no prospect of EU membership in the near future, then the only tool the repetition of the Marshall Plan in 1947. This philosophy everyone understands. We've got the answer, which is not expected.
– Who agreed to invest? In which sectors?
– We have received the task to prepare a far more technical project. That is where the money for which projects, how and by whom they will be used. We have developed such a document. Right now, we have a lot of discussions with Ukrainian and European colleagues.
– A large document?
– No. We do not show. But I can say that we have moved from the political to the expert level. The Lithuanian government set up a special group. Before that, it was more of a parliamentary project, and now government. There are groups, there is a responsible person, the bearer of this portfolio. We call him "Mr Marshall". Just over a week we will be in Kiev, will meet with the Ukrainian experts and the government. Our goal is at the Eastern partnership summit in November, and before that the European Parliament, where they will discuss their recommendations – that there appeared a clear mandate to the European Commission, the European Bank at their level to develop recommendations.
– That is, it is not so much the analogue of the Marshall Plan, how much investment plan for Ukraine?
– The Marshall plan for Germany was, just that he had such a good name. We must ensure that the European Union on its official level, the summit of heads of state, made the decision and gave a mandate to the European Commission to develop an official document investment aid to Ukraine.
Well, at least one example given, what would it be? Investments in the enterprise infrastructure?
There are three directions, which projects may be financed. First, infrastructure projects. Roads, etc. Here Poland is a good example how to organize the whole structure. In Poland is very efficient Polish national development Bank. He monitors projects, prepares them and convince donors to invest. Secondly, this financial assistance to small and medium businesses. It grants a variety of guarantees, cheaper loans…
– Yes, loans for the development of business in Ukraine is very expensive…
– But here is the financiers should develop this plan. And third, this is what we call a municipal or regional projects – decentralization. Actually, there are these three groups, there is the question of how to make Europe really came to Ukraine with financial assistance. I last week on the bike the whole of Eastern Ukraine. Of Mariupol, Berdyansk, and later to Kramatorsk. We had a meeting with the local leaders. I asked them: "do You see the European help?". They said "no". That is, either it's hard to take the money or the European money come through some partner agreements with Ukrainian banks.
– Then next week we will wait for You in Kiev with details. But in the meantime tell us what You spoke with the special representative of the state Department, Kurt Volker. He told me about what spoke with the assistant to the Russian President Vladislav Surkov? He went to Vilnius straight from Moscow.
– We, of course, wondered what he was talking about with Surkov. But he didn't say. I know the Walker as the person who has a clear understanding of what is happening, what to do, what to demand. How would he accomplish that? View. If I were Putin (such a nightmare), I would do nothing in Minsk. My advice to Walker was as follows: Minsk needs to be addressed, but in parallel it is necessary to very clearly show that it doesn't stop the West from the realization of other programs, including the Marshall Plan, from investments in Ukraine's success. Putin to understand that his plan to keep everyone on the Minsk to all and only those involved have failed.
– Another new initiative of Poland and Croatia, which also invests in infrastructure and economy, Tremore. Is an Association of 12 countries between the Baltic, Black and Adriatic seas. It seemed that there should be Ukraine. But at the July summit in Warsaw, where trump came, we were not invited. Do You think that Germany (the leader of the Norman format), which considers Trimore competitor of the European Union. Because at the time the EU was also created as a Union of coal and steel.
Is an initiative of Poland, together with Croatia, is very serious and broad, uniting the Baltic, Black and Adriatic sea. How does this Association? It is the country of the European Union, which owns the name as "new European Union". What does the strategy of Poland, which came up with this plan? You can think anything. Poland is always trying, and we see it as neighbors, to be on a par with Germany and France, addressing issues of the European Union. Sometimes they manage to do that sometimes fails. Start some controversy with Germany, which is not very good for our region. But our region is very important, when we have achieved political, economic and financial European integration – the integration of our infrastructures. And this is just a lot of talk in the framework of the "Three seas". What we should pay a lot of attention just by this integration. And then this format will have added value. But on the other hand of course in this region every single regionchik has some of his priorities. For us, for the Baltic countries, the integration of our infrastructures (roads, Railways, energy infrastructure), the important role of Poland. Simply because of the geographical conditions.
– Opening the economic forum in Krynica, the President of Poland Andrzej Duda harshly criticized the official Brussels. According to him, if you continue to close our eyes to the bureaucracy and complex decision-making system, Europe will be a series of "brexton".
– When we speak of integration infrastructures like the idea of this Association…Which is important for the integration of infrastructures? First, political will at the national level: let's make a road or build some infrastructure. Secondly, it is, of course, regional cooperation. And third, we need European solidarity. Because we do it all for the European money. What does it mean? We do it for the German or French money. To swear on here I don't see the point. There are, of course, a variety of problems in Europe. But they are not of such magnitude to say that we're lost, that decisions are not made that way… the Problem is that Europe is very slow to make decisions. You know, what is the consensus. This is similar to the Lithuanian-Polish invention of the liberum veto ("free veto" – Ed.) when one stood up, said "no" and there is no solution. Poland and Lithuania because all of the tragedy had.
– Today's forum will present a report on "the Adriatic-Baltic-Black sea – a vision of cooperation." The report does say that Tramore is the economic infrastructure of the Union. But a red thread throughout the report is the idea bezopasnosti Union as protection against Russia.
– Of course, everything we do has geopolitical significance. And even the integration of infrastructure like communications and energy, is of great geopolitical importance. Therefore, this Association has a very strong geopolitical implications. Not only the subtext is one of the goals. And here, again, I don't like any hostility between Poland and Germany. We, together need to convince both Germany and France that the issue of geopolitical security, in our case from Russia, remains very important. Therefore, assistance to Ukraine and a strategy to encircle Russia successful countries such as Ukraine, Moldova, Georgia should be one of our main priorities. That is, to find ways to convince our friends in Berlin, in Paris and in Washington.
On the nose, a joint Russian-Belarusian military exercises "West-2017". In Ukraine, in Poland, and NATO saying Moscow could deliberately leave some of its military equipment and personnel in Belarus, then to intimidate Poland, the Baltic States and Ukraine. What they say in Vilnius?
– You know, all this can be. Ukraine is of course a very sensitive issue, because during this time Ukraine has created a rather serious defense on the East side, but not invested in the defense in the North. For us it is not so sensitive, we are members of NATO, in our territory there are NATO troops, even though we never thought that we will be able to achieve. That is, we are ready and in this respect it does not frighten us. But of course we are afraid that Putin is the only tool to retain its popularity in Russia – from time to time to take on new aggressive "adventure" abroad – to start a new war. I have over the last six months have heard very different versions, where else can Russia wage war from Belarus and even to Chechnya.
Comments
comments