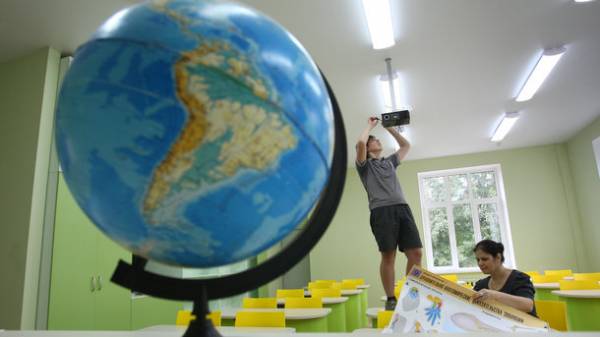 For the new school year not only prepared the students and their parents, but the educational institutions themselves. They are actively buying herbarium, skeletons and buses. "Today" has learned what the purchase was done by the officials from the education for the new academic year, which areas were most active and how much money is spent (see infographic).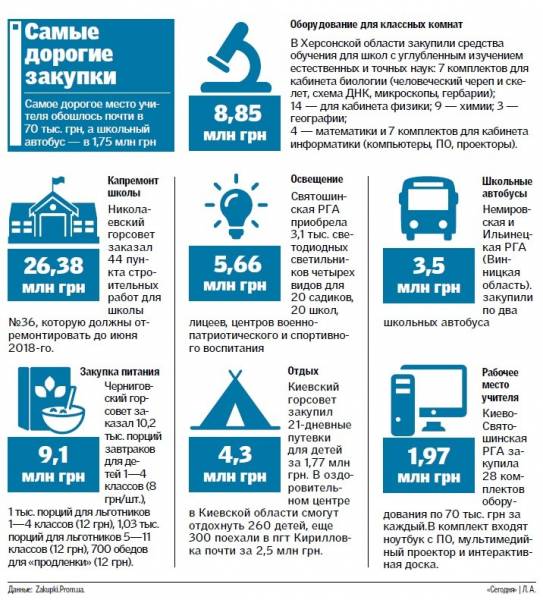 HOW TO COOK. According to the trading platform Zakupki.Prom.ua where are e-procurement, 1700 customers related to education (General education, music, sports and special schools, boarding schools, departments of education), summer has performed more than 25 000 purchases totaling UAH 5.7 billion, having saved thus by tender 167 million. Their services they offered 9860 suppliers. The most active areas in preparation for September 1, was Kiev, Dnepropetrovsk and Donetsk region. Kiev spent 3 thousand purchases worth 988,6 million. In Dnipropetrovsk region was declared of 2.92 thousand of procurement planned amount of UAH 630 mln. Donetsk region took the third place with 1.8 thousand procurement 532,6 million. "Competition in the auction average was 2.21 party on single tender. Most suppliers claim to two of the tender regarding 14 participants had to purchase greeting cards for first graders and light bulbs. Due to high competition the savings on the cards was 75% (the expected value was 45 thousand UAH, end — 10.8 thousand UAH), on bulbs — 50% (starting from 199 thousand UAH, in total — 96 thousand UAH)", — experts say.
THAT BOUGHT. Most of the money of educational institutions allocated for construction works — 50% of the total budget of all purchases ($2.8 billion). 40% of the budget (UAH 2.21 billion) was spent on buying of different products: heat — 453 million, and transportation equipment — UAH 369 million, furniture — 352 million UAH, office equipment — UAH 214 million, products — 200 million "Remaining 10% (570 million) were for miscellaneous services. For example, 150 million UAH — for meals in canteens", — experts explain.
If to speak about quantity purchases, here the leaders of the construction works and repair — 20.1% of the total number (thousand of 5.12 procurement). In second place — food and drinks — a 13.3% (3.4 thousand procurement), the third — went structural materials: 12,2% (3.1 million procurement). Then furniture: procurement of 2.72 thousand, or 10.7%. Further — services in repair and maintenance of buildings, machinery, equipment, and office and computer equipment (4.9 per cent of 1.26 thousand of purchases).
"Based on what stroyraboty leaders and on budget, and on demand, it is in this category was the highest level of savings, 70 million UAH. Also quite a lot — 27 million UAH — save on furniture, 21 million UAH on petroleum products, fuel, electricity, 8 million UAH — on food and beverages and 6 million UAH — on structures and structural materials. These are the highest figures in all categories", — explained the experts of the marketplace.
WHO IS MOST OFTEN ORDERED AND WON. The most active customer was the Department of education, youth and sports of sokyryany RSA (Chernivtsi region) — 607 procurement at 4.25 million. In second place is the Department of education of Poltava city Council — 360 procurement at 36.5 million Closes the three leaders of the education Department of Trinity RGA (Lugansk region) — 285 procurement by 4.33 million.
In respect of performers, most won entrepreneur of the Chernivtsi region on account of its 171 winning proposal. Second place went to capital construction hypermarket — 115 winning proposals, and the third — Kharkiv businessman, acquired the 87 proposals.
Comments
comments