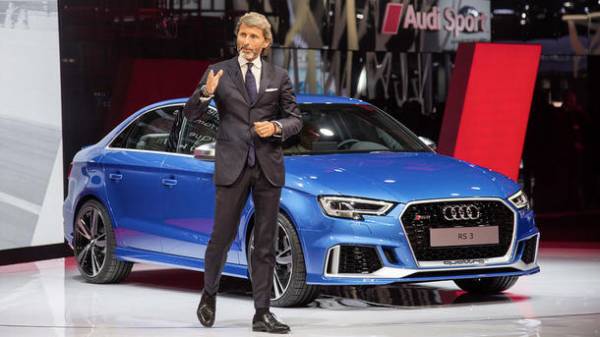 The head of the sports division Audi Sport Stephan Winkelmann will become the Manager of Bugatti, according to "Motor" referring to Autocar. It is expected that officially about the reshuffle will be announced at the Frankfurt motor show.
Winkelmann, will replace Wolfgang Dürheimer, who will remain Chairman of the Board of Directors of the company Bentley. Durheimer was appointed head of Bentley (and Bugatti) twice in his career: from 2010 to 2012 and, after only nine months at the head of the Department of research and development of Audi, from 2013 to the present day.
Contract Durheimer with Bentley ends in mid-2019, but a top Manager, according to rumors, wants to leave early. Perhaps after the market launch of the new Continental GTC convertible.
The Winkelmann at Audi Sport is Michael-Julius Renz, 2015 head of the Audi division responsible for the sale of cars in China. Rentz is working in a German company since 1994 holding various positions in marketing and sales.
Stephan Winkelmann has headed the company Lamborghini from 2005 to 2016. After that he moved to Audi Sport, which under his leadership was renamed from quattro GmbH. In "Bugatti," his main task will be bringing to the market new modifications Chiron hypercar.
Previously, Bentley showed the new Continental GT sedan in 2018.
Comments
comments