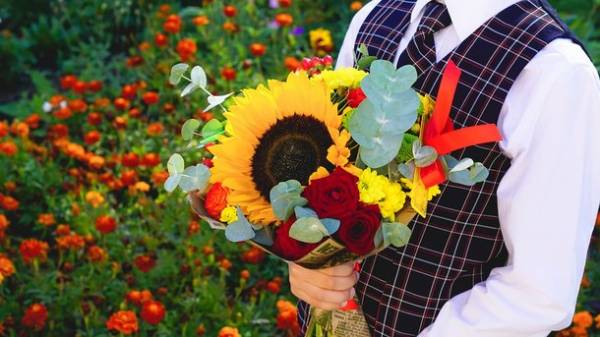 Traditionally, before September 1, parents decide the most important "school" questions – buy briefcases and bags, shape and mountains of notebooks with handles. The final touch of preparation is to buy a bouquet for a solemn ruler in Day of Knowledge.
The website "Today" found out what flowers prefer to buy the parents are and how much it will cost them a bunch of "1 September" in 2017.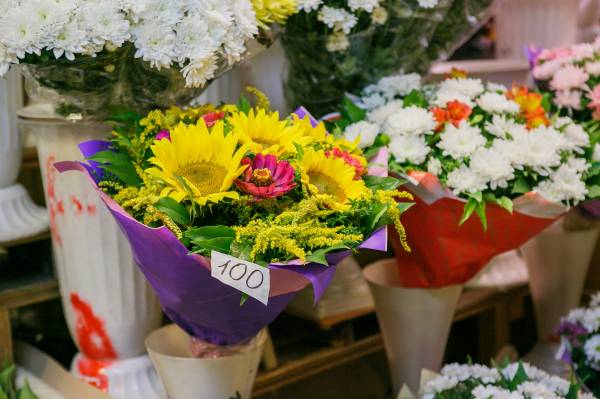 On 1 September, parents prefer to buy bouquets of autumn flowers. Photo: Danil Pavlov
Traditionally, the bouquets that the children go on the first call, consists of autumn colors. The most popular chrysanthemums, asters, sunflowers, hydrangeas, dahlias, zinnias and gerbera daisies in bright colors. However, according to sellers of flower, roses are also very popular this day, but more in the composition of bouquets of several components. For the decoration of bouquets are often used autumn berries, small vegetables and fruit, yellowing leaves, all that the imagination will suffice. However, experts advise not to use for "school" bouquets lilies because their fragrance can cause headaches for not only the child but also those who all day beside it, and the pollen can stain clothes.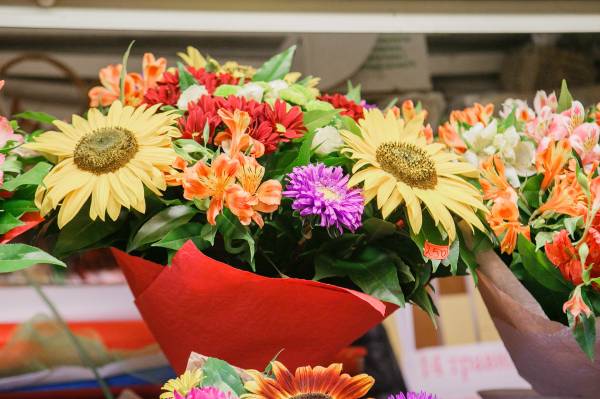 Autumn bouquet. Photo: Danil Pavlov
To gather a bouquet for a student can own. If you have a cottage or a country house, where there are flowers, they are perfect for the occasion. Plants can also be bought at markets individually and collect in the song, and you can buy ready-made. The same services are offered and flower shops. Moreover, they can prepare the fresh bouquet in time for the morning of 1 September and deliver it to you home.
Markets
Flower markets and the pickup is the place where often buy flowers cheaper than in specialized stores. In Kiev, one of those places is a big market at the metro station "Svyatoshyn." Here you can find a variety of options for every taste. So, asters sell for three to five hryvnias apiece, chrysanthemum – 20, gerberas – 15-20 UAH, and roses medium size – 20-30 UAH. Bouquet of asters and sunflowers here you can buy for 100-130 UAH, chrysanthemum – 150.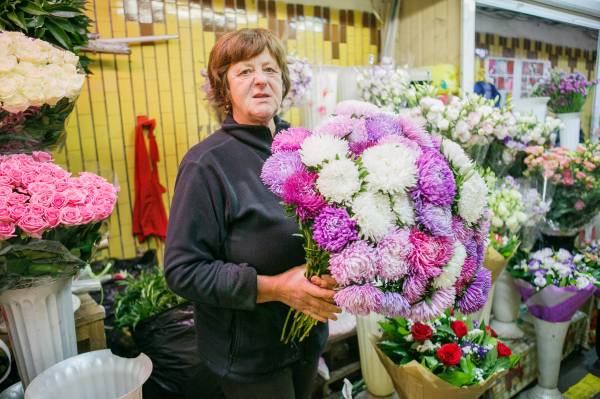 Asters are popular flowers for bouquets on the 1st of September. Photo: Danil Pavlov
According to sellers, by 1 September, the traditional fall flowers will remain at the same price. But expensive roses – so, a few days ago the cost of one flower was to 10 hryvnia, but now the average 13. Taking into account the cost of utilities and salaries to the seller, which is included in the price of each flower, buy a rose in 20. According to sellers, this price increase is not only due to the holiday, because they earn on this day more turnover than due to the price. The cost of roses increases with the end of the summer season and bad weather conditions.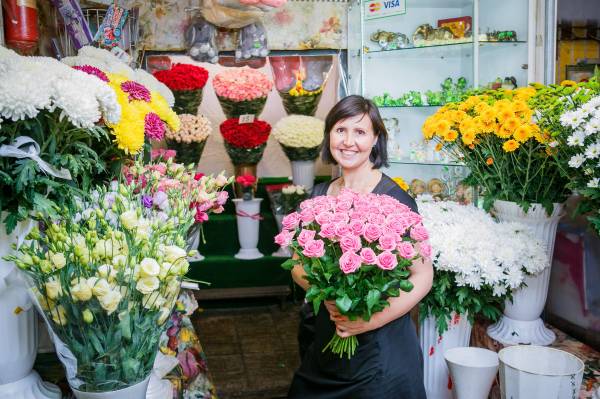 By September 1, rise roses, say the sellers. Photo: Danil Pavlov
However, on 31 August here waiting, because it is one of the few days a year when flowers are very popular. According to local sellers, the last day of summer near the layout is not crowded. A lot of customers they expect and early morning of 1 September. But to buy flowers in advance they are not recommended, because not all of the bouquets will be able to maintain a presentable appearance to the gala.
SEE ALSO
How to teach students from 1 September
Stores
Flower shops, the price of the finished composition is slightly higher. However, many of them spend on 1 September promotions or offer discounts on autumn flowers.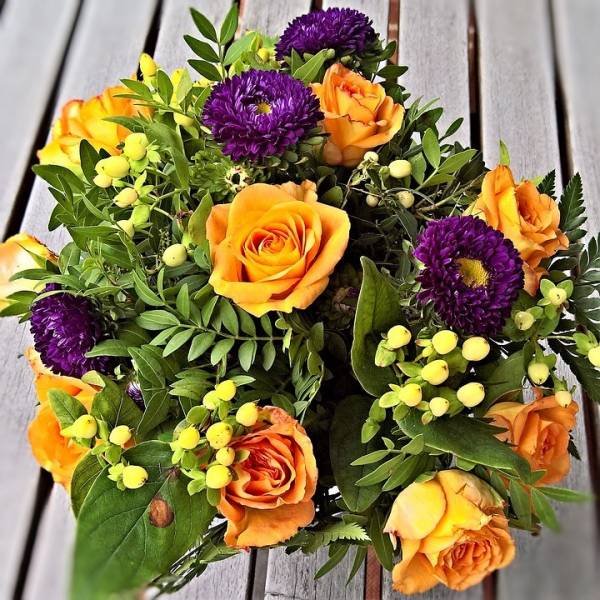 Autumn bouquet. Photo: pixabay.com
For example, a bouquet for a first grader you can buy for 290 UAH. The average price of the composition of autumn flowers – dahlias, asters, gerberas and gladioli – from 400-450 USD. Original compositions for school subjects in boxes, books or cups with the decor of the office can be found for 350-400 USD.
SEE ALSO
Workbooks: whether they are students, and whether the right of teachers to demand their presence
A few recommendations
Creating or choosing a bouquet, you need to consider who your child it will present. So, the adult educator is better to give a solid bouquets of dahlias, chrysanthemums or other flowers, the young from small and soft pastel colours. Teacher man is better to choose a bouquet of monochromatic flowers and scenery of dark green. For the longest time, not wither cut chrysanthemums and asters, and rose most quickly lose their form.
The bouquet can be decorated, and school supplies or small letters, symbols, globes – all that will be associated with the Day of Knowledge. But it is important not to overdo it, so it was not too heavy for a child and did not close it at the ceremony.
SEE ALSO
Girls under 16: hairstyles on September 1
If you bought flowers in advance and go through until September 1 they can fade away, there are several ways to prolong their lives. Asters will last longer if their stems, remove the lower leaves and water, add one-two teaspoons of sugar. To keep chrysanthemums for a longer period, you can rinse the ends first with hot and then with cold water, and the stalk split. In the water, which are dahlias, you can add half of one aspirin. Still, experts recommend singe fire fresh cut stem of the flower. Longer to maintain the fresh rose, you need to remove all the thorns and leaves in the lower part of the stem, and him to split. Water for flowers, you can add one tablet of aspirin, 10 drops of lemon juice or two tablespoons of vinegar with three teaspoons of sugar. Also these flowers of the night can be put into a bath with cool water.
To preserve the freshness of ready-made bouquets, there are a few universal means: in the water you can add salt or sugar at the rate of one teaspoon per gallon, five to seven drops of boric acid (also per liter of water) or throw in a vase a few pieces of charcoal.
Comments
comments