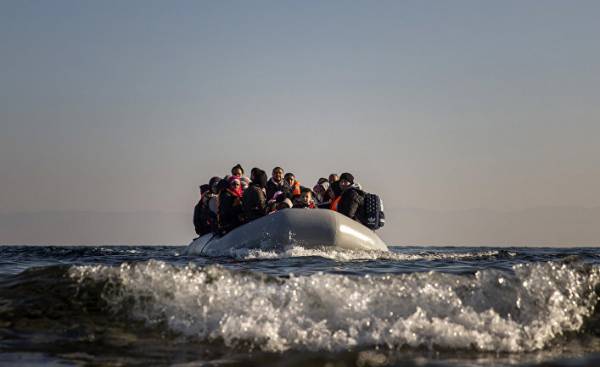 Not Russian killed and destroyed in London last week. Or last year in Paris and Belgium and generally commit acts of terrorism in Europe. And hardly the Russians fault that this year 22 thousand people tried to cross the Mediterranean sea. It was migrants and refugees who hoped to find a better life than the one they fled.
Europe is experiencing enormous pressures, which will become even more, because spring is coming. It is a criminal system that is Danish problem. They are from Italy and are no longer asylum seekers, and are here illegally. Is the shadow system that is not reflected in the statistics, but there is ill the grey labour market. They come from Africa.
But despite this, Danish politicians are talking about Russian. Russia is a threat. A number of senior politicians 14 days ago visited the Danish soldiers in Iraq. And the statements of these politicians in Iraq indicate that the majority wants to increase financing of the army.
"In our situation, when Russia is becoming more aggressive, we will spend more money on the army," — said the leader of the social Democrats Mette Frederiksen (Mette Frederiksen) after the visit. Defense Minister Claus Frederiksen yort (Claus Hjort Frederiksen) said on American television that the armed forces will annually receive 20 billion crowns. The increase in half. Year after year. It's huge money.
There is no doubt that Russia is a challenge. But the biggest enemy of Europe is not Russia. Unstable middle East and North Africa affect Europe more than anything else. Terror and the people who go here and are now in more and more come illegally and absolutely uncontrolled.
Security is not just defense spending, and other measures. Associate security only with increased expenditure on the army is like a blind man looking in the binoculars. In terms of the explosive growth of the African population should not increase military spending, have increased costs in developing countries.
At a security conference in February in Munich, German Chancellor Angela Merkel (Angela Merkel) suggested that, a new "Marshall plan" for Africa, which envisages European-African cooperation for development and peace.
Germany is better than any other country, knows what a restoration can do wonders. Just imagine that Denmark and the Danish politicians had the courage to annually allocate 20 billion to begin to rebuild Africa instead of spending that amount on the military.
Autumn in Denmark will be local elections. Maybe it would be worth to listen to Danish people? In the elections we can say about our politicians. This is my opinion.
I know the Danish armed forces, their actions and role as defenders of peace in the existing framework and with existing funding. Do not blindly spend money on military needs and to fulfill the requirement of the US and NATO to the countries-participants of NATO to increase military spending to 2% of GDP — if it makes sense to spend the money on something bigger and better.
Comments
comments