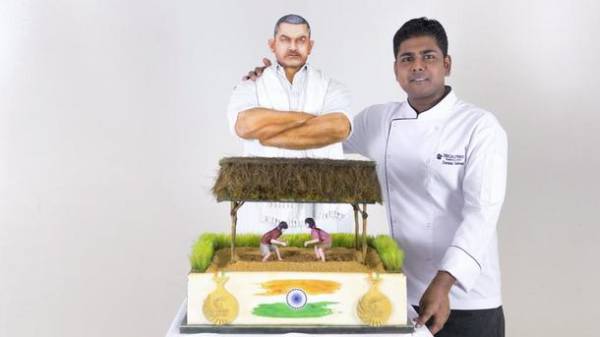 In the bakery Broadway Bakery in India was created the most expensive cake in the world. At least, so says Executive pastry chef bakery Dominique Joseph Samuel. A masterpiece was dedicated to the independence Day of India as "icing on the cake" was bollywoodstar star Amir Khan in the image of the sportsman who coached the women wrestlers in the movie "Dangal". On the creation of the cake worked a group of six artists, and in General work on the masterpiece took about 1200 hours, reports woman.ua with reference to ndtv.com.
"The idea was to create a design that marked the Indian independence Day, and at the same time honor the achievements of our celebrities. We felt that the characters in the movie and the story of their struggle gave the cake a soul," said Dominic Joseph Samuel.
The cake was made using sugar fondant, chocolate sponge cake, ganache, Belgian chocolate, Demerara sugar and edible gold. The total weight was 54 kgs and it will suffice to treat about 240 guests. Customer sweet splash with a cost of $ 4,000.
We will remind, in Ternopol produced the longest cake-embroidery in Ukraine.
Comments
comments