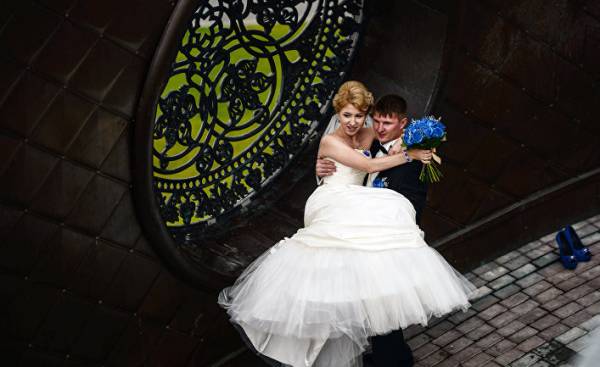 Roman Mokrov knows what a wedding in Russia — as a photographer he had a chance to visit more than 500 festivals. His pictures capture an exciting and joyous moments, but also the various misunderstandings that have occurred in the lives of people in their "best day ever". According to him, guests at weddings usually give in to these feelings and emotions for the day forgetting about everyday worries and problems, and believing in the fairy tale.
In the present times, many Russian weddings there is a place for old traditions: for example, guests dress up like robbers and "steal" the bride and the groom have to "buy" — then the money will go to "good" guests newlyweds. For this the bride and groom or their witnesses have to participate in all sorts of fun and wacky contests, for example, to dance the Lambada.
Each wedding celebration has its key moments that the photographer need to capture: that the newlyweds exchange wedding rings, the bride throws the bouquet, but the car is decorated with flowers. "It is very important to capture these moments, because a second chance will be gone," said Mokrov. And there is another "challenge" in his address: "the Most important thing — do not drink the rest of the evening and not lose the camera." Guests are usually very strongly suggest the photographer to "show respect for the newlyweds to toast their health."
Roman Mokrov is a wedding photographer in 2007 due to financial difficulties. Now he sees he made images of his artwork. Moscow Museum of modern art recently organized a photo exhibition as well as the corresponding video presentation: Mokrov filming staged his own wedding to allow Museum visitors to take in the holiday atmosphere.
As an artist he was interested in the first place, absurd elements of life of the Russian people. And his wedding photos demonstrate it: that's the groom, kissing the feet of his bride, but a woman carrying on its neckline two plates with cakes.
To the photographer plays a special role: "In all of these photos you can see me — but at the same time not. I try to abstract from the role of observer. I know that you are a part of this action — or should not be."
His task — to show in the pictures the immediacy and ease of the newly-made family, for example, in the framework of any funny stories or games: "As a rule, the newly Wed do not know how to pose or try to imitate the celebrities in the pictures in the glossy magazines." For many it's the first — and last — Photocall in life. This comes in handy Mokrov his education psychologist, to which he has added and art.
He Mokrov has twice sought the hand and heart — and the same women: the fact that together with his fiancée he was invited to the shooting of the TV show "My wedding better!" where he repeated the question and received the answer "Yes!"
Comments
comments