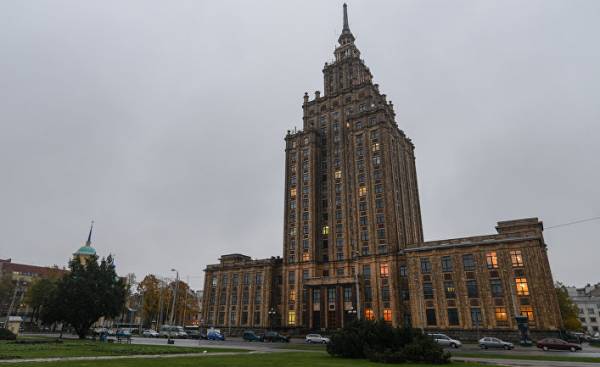 The Ukrainian problem and not resolved, and European countries have great fears about Russia. Against this background, Latvia, proclaimed the departure from Russia and rapprochement with Europe continues to grow steadily. In April there was deployed a multinational NATO battalion that provides a serious deterrence of Russia, which increases the pressure due to its military power. Looks like this will further help the development of Latvia.
"After the aggression in Crimea in 2014, Russian troops have repeatedly conducted large-scale exercises near the Latvian border. We have become accustomed to the fact that at any moment there can be an emergency situation in which Russia will try force to move the border," — said the Deputy Minister of defence of Latvia Janis Garisons. According to him, in Latvia there is a growing fear due to the fact that the President Putin who consider the collapse of the Soviet Union as a historic mistake, is trying to regain lost ground.
Also, Garisons notes that in recent times Russia is waging a hybrid war, combining military power with cyber attacks and propaganda in the form of fake news. To counter the threat, in the spring of this year in Latvia is a multinational NATO battalion, numbering about a thousand soldiers from Canada, Spain and other countries. Deputy Garisons appreciates the activities of this battalion: "It is extremely effective."
The area of Latvia is only one-sixth of the territory of Japan. The population of Latvia is approximately two million people. Despite this, in 2016 the economic growth of this country was 3.5%, which is 1.7% more than in the EU.
Latvia seceded from the Soviet Union in 1991, and moved to a market economy. In 2004 it joined the EU, after which the country experienced a housing boom, but the bubble economy burst. In 2009, the economic crisis in which the economy went to minus 18%. However in 2012, economic growth amounted to 5.6%, which was the best figure in the EU.
"The fact that we have tightened fiscal policies, reduced staffing, reduced payroll and conducted structural reforms across the country," explains the reasons the Deputy of the Central Bank of Latvia.
"After independence, we have used advanced Soviet technology in the areas of weapons and medicine for the needs of private companies," — said the head of Agency of investments and development of Latvia Andris Ozols. According to him, the use of the Soviet heritage is one of the reasons for the rapid growth.
Pharmaceutical companies are the most competitive. The largest "Grindeks" in the 1960-ies developed an advanced cancer treatment which is called Zero therapy. "Grindeks" first to receive the certificate of the world health organization.
Before 1940, when Latvia was annexed by the Soviet Union, the country was part of Europe. Mr. Ozols said: "Our policy is based on the principle of departure from Russia and joining Europe. This is the main reason we developed faster than other former Soviet countries. I hope that in connection with the British exit from the EU, the Japanese company will be actively working on our market."
Comments
comments