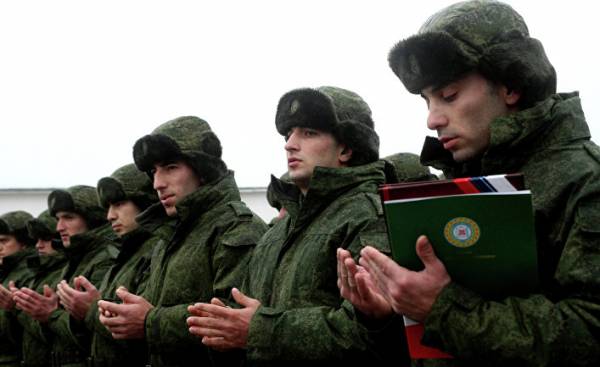 Russia sent Chechen troops in the village of Deir al-Firdaus in the North of HOMS in the framework of the agreement on the reduction of tension in Syria, which was signed by opposition groups at the beginning of last week and suggested the creation of a Russian observation posts.
On 7 August, the Agency Enab Baladi received the footage, which shows how Chechen soldiers in the village of al-Irshadi placed on a military post, and pray in one of the village mosques. Local residents reported that the military, in Deir al-Firdaus is Russian Muslims, mainly Chechens. The source also noted that over the past two days between the soldiers and local people had established a good relationship, which was not observed during the presence of forces of the regime.
The Russian side said that the agreement on reducing tension extends to 84 settlements, covering a population of 147 thousand people. It is expected that the agreement which primarily aimed to prevent any kind of clashes or air strikes, will operate in the territories of Deir Pula to Tallava in the North of HOMS and also in al-Houlu, Ar-Rastan and Talbia.
The agreement calls for the establishment of observation posts in the village of al-Kaba, Akrad al-Dosinia, Jabarin and al-Ashraf.
On Friday 4 August Russia has deployed their units in the village of Deir al-Firdaus to the North-East of al-Khauli related to Reef Hama. According to Enab Baladi, this item is not considered control.
Earlier, the Russian media reported that the military represents "Chechen special forces" will defend the base Hamim in the province of Latakia.
The soldiers represent the troops of special purpose "East" and "West", stationed in Chechnya.
In Russian agreements on Syria adopted in recent days, it was noted the placement of the Chechen soldiers the Sunni exclusively in the areas of reducing tensions, one of which was of Eastern ghouta, where the Eastern corridor Huta was concentrated 150 Chechen soldiers.
According to the survey, conducted by the same Agency Enab Baladi, 51% of respondents said they support sending the Russian Chechen military units for the implementation of the agreement on the reduction of tensions and 39% not supporting and 10% undecided.
Comments
comments