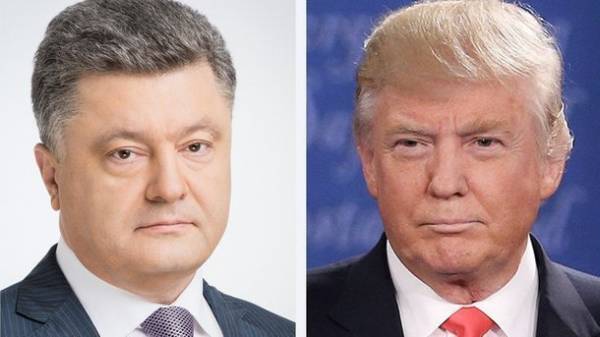 Meeting of President of Ukraine Petro Poroshenko and U.S. President Donald trump may be held at about 18:00 on Tuesday, the TV channel "112 Ukraine".
"During the visit of the President of the United States, which will last two days, it is expected that Poroshenko is expected to meet with U.S. President trump. This visit may take place tomorrow, about 18 hours Moscow time, but the final confirmation or details of that meeting yet," – said on Monday the correspondent of the TV channel from Washington.
According to her, the arrival of Poroshenko in Washington is expected around 18:00 local time, or about 1:00 am in Kiev. "On arrival, the President should meet with the Ukrainian community in Washington near the memorial to Holodomor. There also needs to hold a prayer service," – said the correspondent.
As reported, Poroshenko left for the USA on a working visit on Monday.
Earlier, on 14 June, a diplomatic source reported that Poroshenko next week will visit Washington where will meet with trump. "Indeed, agreed about the meeting (tramp – ed.), the visit will take place on 19-20 June," he said.
The evening of the same day the foreign Minister of Ukraine Pavlo Klimkin confirmed meeting of heads of state, but did not give specific dates. The Minister also noted that the agenda of the meeting will be questions on the implementation of the Russian Federation of its obligations under the Minsk agreements, as well as the question of the occupied Crimea, access to international observers, the issues of bilateral cooperation of Ukraine and USA, as well as assistance to the Ukrainian reforms.
Also, according to the Minister will discuss issues of cooperation in the security sphere between Ukraine and the USA. The foreign Minister announced a "major policy decisions in this area".
Comments
comments