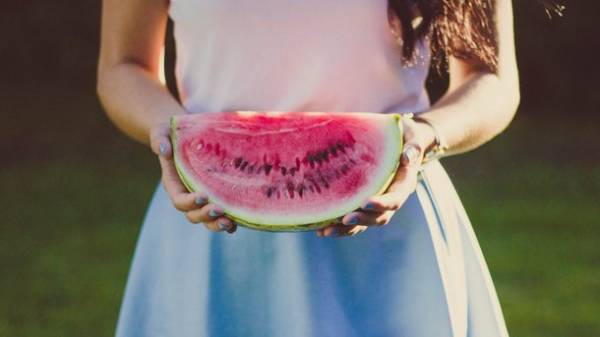 About the benefits of melons, a season which is gaining momentum, not only knows the baby. But that reduces the usefulness of watermelon and melon, certainly don't know everything. To understand this helped us to experts: Boris Skachko, nutritionist, herbalist, medical blogger, and Elena Svitko, naturopath.
In the heat of the watermelon and cantaloupe, chilled to frost,. But low temperatures reduce the level of antioxidants in the pulp. But if you store the fruits at room temperature — the level of nutrients increases as the watermelon and cantaloupe continue to ripen. For example, 20% becomes more carotenoids (for eye health) and lycopene (antioxidant).
It's convenient: immediately see the fruit ripe or not, and tomorrow you can again buy fresh soul mate. But on the surface of the melons may be the causative agents of intestinal infections. You can't be sure of the seller before you cut, and washed his goods — and, hence, the incision germs enter the pulp. Also better to abandon the trial of a piece of watermelon or melon before you buy.
The remains of the melons during storage become a hotbed of pathogenic microorganisms. This can result in flatulence and even poisoning. Because incised to eat the fruit is possible, but not later than 24 hours.
IN THE MENU THREE TIMES A DAY
If the healthy condition of your kidneys and gall bladder not confirmed diagnostically, you don't know for sure, you have sand or even stones in these organs. Hobby melons can move them and end surgery. Watermelon and melon should be on the table once a day, and eat them is not to satiety.
SEE ALSO
Five ways to choose sweet and juicy watermelon
Unloading melons for several days in a row can lead to weight gain: a diet — low calorie and nutrient-poor. So at the end of unloading the body to quickly get the lost calories and nutrients, will beep increased hunger, and high likelihood that someone will overeat.
FOR DESSERT AND A BIT OF SUGAR
Watermelon or cantaloupe can be eaten either for a half hour before eating or two hours after: mixing melons with any food will lead to fermentation, bloating and incomplete digestion. After the watermelon and cantaloupe are digested in the intestine, while the main food is in the stomach. And the incomplete digested food is the way to intoxication and increased fat depots.
THE BENEFITS OF SUNFLOWER SEEDS: THREE RECIPES
AGAINST FATIGUE. Grind in a blender the seeds of watermelon and/or melon with water in slurry. Eat three weeks to 1 tablespoon three times a day, one hour before meals or 2 hours after. Fiber in the seeds is a sorbent unsaturated fats healthier liver, and it neutralizes the toxins.
FROM WRINKLES. Watermelon and cantaloupe — sources of vitamins A, C, B9, PP, potassium and carotene. To enhance the rejuvenating effect, add a mask of milled in a coffee grinder melon seeds in relation to pulp of 1:1. Apply the mask 2-3 times a week for 15-20 minutes.
TO POTENCY. Zinc and selenium in pumpkin seeds improve potency and quality of sperm. Grind seeds in a coffee grinder, add Flaxseed, walnut, pumpkin seed or olive oil to release the pulp. Eat 3 times a day during meal, 1 tbsp during the month.
Comments
comments