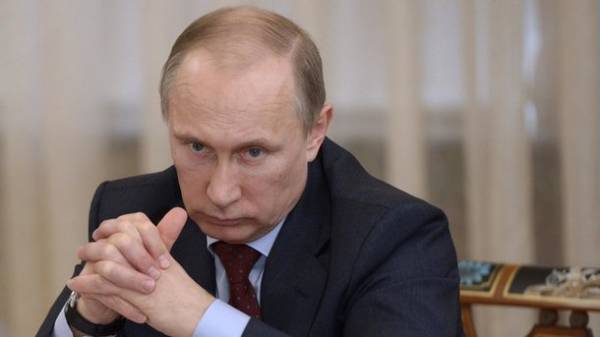 Suddenly, the President of Russia Vladimir Putin spoke about the dispatch of the UN peacekeeping mission to calm the war in the Donbass, which he himself had kindled. Why? Earlier Moscow firmly rejected any UN intervention, not to mention the deployment of "blue helmets". So, obviously, for the Kremlin, something changed. As reported ZN.ua in an article for the Washington Post writes former foreign Minister of Sweden Carl Bildt, stressing that the version of the peacekeeping mission, which offers Putin is clearly a false start.
He wants the demarcation line between the Russian forces and the Ukrainian army is a small force. This will reinforce the status of internal conflict and create a cover for Russian forces, as well as consolidate Russian control over the Ukrainian border.
"I doubt that even China will buy it. In the current security Council (UN) maybe Bolivia will support Putin's plan, but that's all," – said Bildt.
However, in his opinion, Putin's position still represents an interesting change and opens space for debate on real peacekeeping missions, which would help to implement the Minsk agreement. Of course, it will happen "not today and maybe not tomorrow, but maybe the day after tomorrow".
Bildt believes that the Kremlin is alarmed by reports that the administration of U.S. President Donald trump is seriously considering the supply of modern defensive systems to Ukraine. This severely limited the role of Russia in a possible future attack on Ukraine conventional military forces such as those she made in August 2014 and February 2015. The Kremlin apparently sees such attacks as a tool of conflict management.
SEE ALSO
Peacekeepers in the Donbass: Poroshenko for the first time commented on the initiative of Putin
"Without them, I suspect Putin will gradually move in the direction of the loss of the Russian position in Ukraine in General," writes former Swedish diplomat.
In his opinion, the administration of Donald trump, of course, is to transfer weapons to Ukraine, which has the right to self-defense. But also the US and the EU should simultaneously take up the question of sending peacekeepers. They must expose the bluff and Putin put on the table a proposal for a strong peacekeeping mission that will help to implement the Minsk agreement.
Previously Bloomberg wrote that the Russian President Vladimir Putin wants to use the UN peacekeepers to freeze unleashed the war in the Donbass. His latest conciliatory offer to Ukraine should not be viewed properly – as another attempt to succeed. And treat it accordingly.
Comments
comments