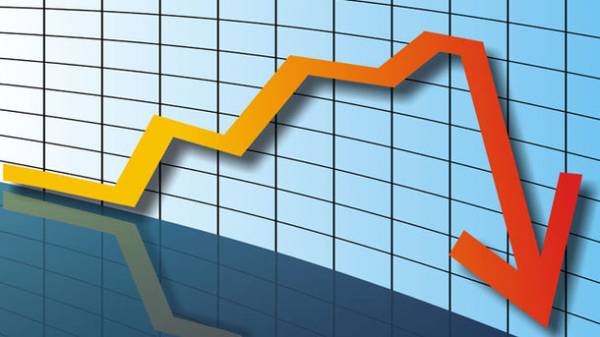 The decline of activity of the main sectors of the Ukrainian economy in the first quarter of 2017 signals a slowdown in economic growth and availability of prerequisites for the beginning of the recession. This opinion was expressed by head of the analytical Department of the group of ICU Alexander Valchyshen.
The specialist forecasts that quarterly growth of real GDP in the first quarter of 2017 will be zero or even negative compared to the performance of the fourth quarter of 2016.
"Calculations based on statistical data, show a negative trend of the economy. Thus, the seasonally adjusted index of major sectors of the economy in February 2017 fell by 1.3% in comparison with January, and in all sectors of the economy, except agriculture and transport, has declined compared with the previous month, said Valchyshen. In March the activity of the main sectors of the economy has not recovered to the level of the January figures because of the blockade ORDO".
Analysts believe a high probability of re-entering Ukraine's economy in the second quarter of 2017 in a technical recession when two consecutive quarters there is a decrease in real GDP in terms of the quarter/the quarter.
"For the purpose of leveling the negative consequences of the blockade, the authorities will have to resort to more drastic monetary and fiscal policy, which inevitably appears in economic activity for the second quarter of 2017. Against the background of these processes may be further decline in real GDP compared with the first quarter (in seasonally-adjusted terms). If the action of negative factors will continue in the second half of the year, the economy will go into recession," said Valchyshen.
According to experts, in the second half of the authorities can use measures to support the economy, to stop quarterly decline in real GDP.
"In this case, economic growth will be about 0% in 2017 compared to 2.3% in 2016. If the blockade ORDO will not last long, economic growth will be able to return to the previous rate. In the optimistic scenario, the growth rate of real GDP can be for 2017 and 2.3%," said Valchyshen.
We will remind, earlier the NBU predicted that in the results of the blockade in the Donbass in the first quarter of 2016, economic growth will slow, despite a favourable base of comparison and a certain momentum of growth from previous periods. In General, the Ukrainian economy in 2017, according to updated preliminary estimates of the NBU, will grow by 1.9%.
As reported, the state statistics service has reported an increase in real gross domestic product of Ukraine in 2016, 2.3%, whereas previously the government on the basis of assessments of the statistical authority said on 2,2%.
Comments
comments