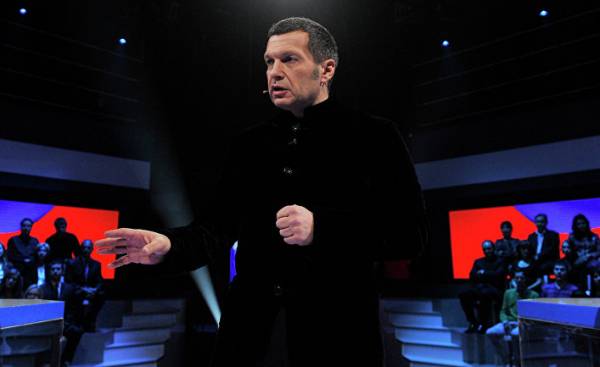 Something to hide, I too am one of those 15% of inhabitants of Latvia, which (according to the survey Latvijas fakti) sometimes look analytical programs on Russian television political debate. For example, the "Evening with Vladimir Solovyov," "60 minutes", which leads the couple Skobeeva Olga and Evgeny Popov. I am really interested in what is happening in our neighboring country.
However, a pertinent question: to what extent can we believe these discussions and their participants? Oddly enough, but I always thought that the most honest relationship to the audience and to themselves in these discussions are the politics — the Communist Zyuganov and the liberal-Democrat Zhirinovsky, representatives of the United Russia Spring or Kosachev. They seem to really say what I think. If Zyuganov calls to withdraw all foreign exchange funds of Russia from foreign banks and to build for the money, new factories, there is no doubt that these are his views. They can agree or disagree, but Zyuganov, at least she's not pretending.
At the same time, the impression is not particularly credible is formed of so-called independent experts. They usually represent any of the many centers of policy research (policy, media, communications, social technologies, etc.). How would intelligently and passionately spoke these experts, in their words, felt something insincere, a kind of "falsehood". So it seems that in the debate with representatives of the Russian government, they deliberately put themselves in the role of losers.
My suspicions were reinforced posted on the website of The Insider publication, Sofia Adamova, "confessions of a propagandist: as Russian state television doing political shows". It turns out that "independent international experts" really like actors who work on written by the Kremlin scenario. One of these "political actors" — an American, a former insurance agent Michael Bohm, which depicts critically adjusted in relation to the current Russian government an American journalist. Not many people know that BOM is already 20 years living in Moscow, fluent in Russian and married to a Russian citizen. Another outstanding personality — a Ukrainian scientist Vyacheslav Kovtun, who made the role of a patriot of Ukraine. The task of the Boma, Kovtun and other similar puppets to pretend to be a little aggressive, a bit anti-Russian, Pro-Western, liberal-minded and at the same time, ridiculous losers.
For participation in these shows pay money. Not a lot, but not so little — about 15 thousand rubles, or 200 euros. If during the week could attend three or four such representations on different channels, for the month typed the amount for which, even in such an expensive city as Moscow, it is possible to live decently.
Form of political propaganda has changed not only in Russia but throughout the world, and putatively objective discussion on Russian television once again confirm this conclusion. Unlike the Brezhnev era, the people portrayed are not boring speeches of party activist, and theatre, fun show with elements of the game.
Is it possible on Latvian television at least theoretically, the same political theater in Russia? Unlikely. Latvia is too small to use here is political clowns, they just instantly recognize. But we have widely distributed the "play dress-up" when the policy before the next act of the play change their political affiliation. Three, four, even five games over his career — it is a mere trifle, if only to get a place in the diet!
Comments
comments