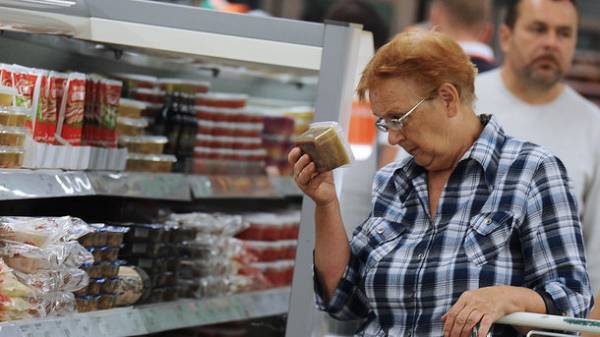 Expenses of Ukrainians for the products is growing each year. According to experts, the purchase of 19 key goods in the store costs our compatriots at least 700 UAH and is more than 10% of the monthly income. "Today" compared the cost of food in different countries and found out how one trip to the store to spend the citizens of Europe, CIS and Asia, as well as where it is cheaper.
WHAT WE'RE BUYING. Experts of the Economic discussion club estimated the cost 19 most popular products in different countries. Compare prices on ten of them given in the infographic. In addition to these it products to the "basket" took into account the cost of wheat flour, rice, pasta, beef, chicken, and cabbage, carrots, onions and beets. Buy it all in Ukraine cost UAH 702, in Poland in terms of hryvnia — 915, Hungary — 1067 UAH, Spain — 1403 in France — 1586, in Belarus — 610, China — 1738 UAH.
SEE ALSO
How to get rich Ukrainians, and what will happen to prices
That is Polish "truck products" similar to the Ukrainian one, more expensive than our 30%, but the salary of the pole in 4.5 times more than the Ukrainians. A resident of Hungary for a trip to the supermarket will pay 1.5 times more than Ukrainian, but he can boast a salary of 4.2 times more than us. It turns out that in Hungary the level of expenditure on food is higher than in Poland but lower than in Ukraine. And the lowest he's in France — there is a similar set 2,3 is like ours, but the salary of more than 12.7 times.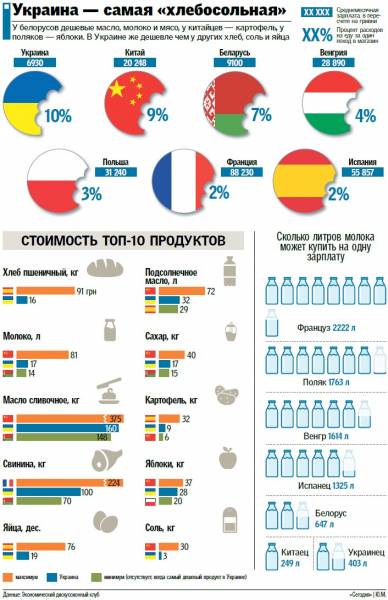 WHY IS IT EXPENSIVE. Alas, according to economists, we should not expect any reduction in prices or the growth of wages to the European level as long as Ukraine does not happen "technological revolution". And it is only possible if you have any investment in manufacturing — private foreign and domestic, government and Bank loans. As explained to us economist Ivan Nikitchenko, Ukraine over 20 years and is part of the global economy, we have an open border for exports and imports, so the prices between neighboring countries can vary drastically.
"If there is a significant difference, there will be a "shift" of the products or their manufacture, and the prices are still aligned, says Nikitchenko. Also the price depends on such factors as taxes, logistics, and the percentage is about the same cost in different countries. But wages depend on productivity in the whole country and from the volume of purchases of those goods, which we have no or not enough of them. Ukraine buys cars, consumer electronics, fuel, energy and many other products. We have a chronically negative trade balance, that is, we are just a little high-tech manufactured goods to earn and get large salaries."
And Director of the Association of retail suppliers Oleksiy Doroshenko noted that the prices of many products in the us we have the same or close to the foreign.
"We have low wages because of low labour productivity due to technical backwardness. For example, a German lathe operator produces per hour, 15 parts, and our only 3, because our outdated machine. Wages will not rise to the European level, while in Ukraine will not be investments, no matter whose they are. But you need to create the conditions first of all it is the justice reform, protecting private property, no government corruption and transparency, that is, equal conditions for all. If that happens — within 3 years will go real investment after 5 years will increase wages."
Comments
comments