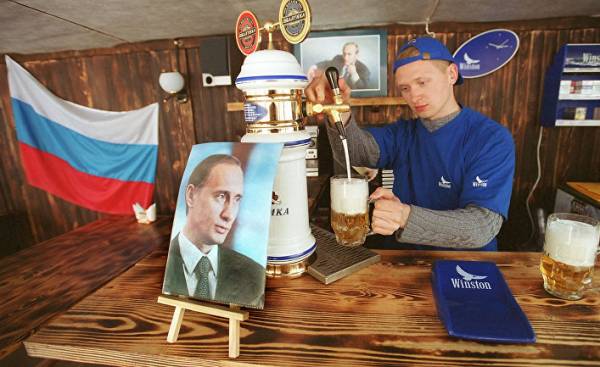 This year marks the centenary of the popular uprising that led to the fall of the Romanov dynasty and the establishment of the Bolshevik regime under the slogan: "Peace, land and bread."
One hundred years later, we asked six of Russians living in different parts of the country, about their life, about the Kremlin, Vladimir Putin, and about Russia's place in the world.
Aigul Valeeva, 49 years old, Ufa: "He's in good shape and relatively open person"
I was born and raised in the Soviet Union. At that time our country was a great Union of republics with a different standard of living and other indicators that the authorities tried to reduce to a common normal. Yes, we "do missiles and blocked the Yenisei," but to buy the sausage, had to stand for hours in the queue, and the particular choice in clothes we did not have — the difference was only in size.
When the Soviet Union collapsed, the whole economy collapsed, and the relationships between the different republics were disrupted. Under Putin, they should be restored, and build a new one. Support small business, agriculture, science and production. Russia started to produce high-quality military equipment. If you want respect in the world, need to demonstrate strength.
Putin is popular, because when he first became President, he was young and energetic — after a string of old, sick and degraded leaders. He knows how to communicate, knows how to demand. In addition, he is in good form and relatively open.
Aigul Valeeva is a specialist in the field of metallurgy, Russian Academy of Sciences

Ilya Anyhow, 30 years, Moscow: "Political system inert"
The political system in Russia is so inert, that to participate in it today is pretty boring. In my opinion, to influence the situation in Russia by voting in the elections can be just as much as you can influence, say, the force of gravity. Better to surround yourself with people who are willing to step forward and to develop new technologies and means of communication. And the political system is just trying to catch up.
I don't watch TV, this passive consumption of content does not suit me, and the fact that today show — is of questionable quality. The Internet is a great alternative, and I think that most young Russians get information from the Internet.
Political marches are not for me; I believe that the freedom and peace of mind — is primarily a personal matter. On the other hand, article 31 of the Constitution States that citizens have the right to assemble peacefully, without weapons, hold rallies, meetings. A relaxed walk in the fresh air is always good for the health.
Ilya Anyhow programmer.

Alina batishcheva, 29 years old Balakovo: "There are many myths about Putin"
I believe that Russia actually never his greatness is not lost, despite the fact that she survived the difficult economic and political times, the echoes of which we still feel today. The main achievement of Vladimir Putin is that he was a more capable leader than his predecessors. There are many myths about Putin, which basically are the result of subconscious impulses of Russians. Existed for centuries the serfdom and then communism created a model of the relationship between those in power and "crowd". Average Russians approve of the idea of "strict but fair" ruler.
Alina batishcheva education — a sociologist, who until recently worked as an administrator in the coffee shop
Alexander Kulewicz, 30 years, Toksovo, Leningrad oblast
Compared with 1990-ies Russia is in a much better position: it is not fulfilling anyone's orders, and her policy will not be manipulated. Even the sanctions imposed after the annexation of Crimea, once passed us. Raising an army and Navy from the ruins, Putin acts as Tsar Alexander III. He is popular because he is independent. Angela Merkel before making a decision, have someone to consult, and Putin does not need any advisers. I think it is good.
Another thing is that internal problems are solved very slowly, but then the fault does not lie with Putin, and those who simply sits at their posts. And the people themselves also do not really defend their rights. They are still recovering from its Soviet past and from the confusion of the 1990-ies.
Alexander Kulewicz — snowboard instructor.

Galina Khokhlova, 74 years, Moscow: "the Russians can only get rich at someone from account"
My husband as the Soviet scientists were given free two-bedroom apartment in the center of Moscow. We lived a wealthy life, but without any problems. Then perestroika began. It was a disaster. The West promised friendship, then NATO has expanded East into the Baltic countries. For our own national security we can't allow this to happen.
Capitalism has brought the threat of unemployment and economic instability, and gave power to those who well knows how to steal. In Soviet times, all that the government has left after defense spending and construction were given to the people. Maybe today's generation has more opportunities, but then all they were the same. When some Soviet officials violated this principle, it was frowned upon. Now there is a huge disparity, but no one to care.
My children help me financially, so I live better than the average pensioner. But if pensioners greatly support the current system, it is due to the fact that they don't want any more change. They want stability, even if life is not comfortable. Government subsidies such as free public transportation, play a significant role — it is a daily aid for people and they are happy.
Those who think that we can live, how people live in Europe, naive. The size of Russia and its climate is such that all our efforts go to just to survive. Here you can get rich only at the expense of others.
Galina Khokhlova, a pensioner, a former engineer, RAS

Alexander Solomin, 26 years old, Yalta (Crimea occupied (SIC —approx.ed.)): "Over the past three years, little has changed"
I've lived here all my life. When Crimea became part of Russia [in 2014], I expect that local government will become better, smarter, than in the days when we were in the Ukraine. I thought that Russia would promote the development of infrastructure of the Crimea and of the industrial enterprises and turn it into a beautiful place for tourists and local residents. But over the past three years, little has changed. As before the authorities of stealing and continue to steal. There is no control, and if this continues, we will never achieve.
Do I think sanctions are fair? Absolutely not. The people who suffer. Previously we did not have enough money to go abroad. But now we can't even get a visa. Because the Kerch bridge connecting Crimea and mainland Russia] is not yet completed, all you have to bring in ferries. It takes time, products are more expensive and salaries are low. Should regulate prices, but at the moment it is not. I hope that all this will end soon and we can start to live a normal life.
However, we made the choice. Whether it is right or not, but we decided to.
Alexander Solomin — senior mechanic
Comments
comments