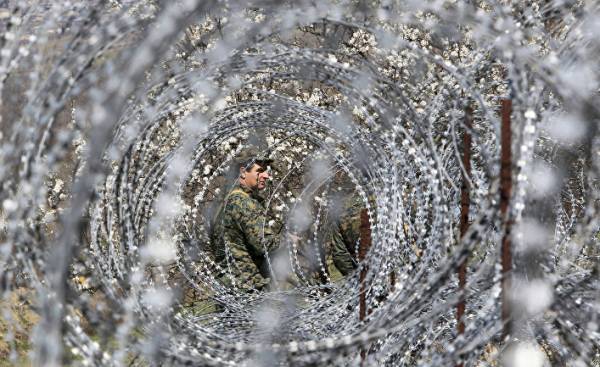 Tbilisi — This became known after a group of students in Tbilisi protest against the capture of the South Ossetian side section of the oil pipeline Baku — Tbilisi — Ceyhan undertook patrols the South Ossetian border. In General, the unexpected movement of the boundary between Georgia proper and the breakaway South Ossetia it is not new…
Newspapers do not just depict how the citizens, having fallen asleep in the evening in his native Georgia, it happens to Wake up in the morning surrounded by the "hated separable". Or, as I say, on the territory controlled by the Russian military and Ossetian separatists. However, the case with the strategic pipeline out of the ordinary.
Partly the action of the student group, headed by Chairman of Federation of rafting of Georgia Davit katsarava, caused by the strange silence of the authorities in connection with a complete "outrage" on the border with the breakaway territory. This, by the way, according to data reported katsarava reporters about the situation in the area, which he and his people today have actually taken control of.
The recognition of the self-appointed guards over the last six months they recorded 181 violations, of which 109 cases of violations of the "state border" and 72 cases — the border regime.
Katsarava has confirmed to the correspondent of Haqqin.az that the whole is more than the 390-kilometer border they are divided into several distances, patrolled, as he put it, the patriots of Georgia. To move along the border of his team are going on the machines, but where this is not possible — the pedestrian way. Weapons from the public guards there found it necessary to add it.
Meanwhile, the extraordinary initiative of the President of rafting Federation of Georgia and his team some believe "a direct threat to stability."
Envoy "President" of South Ossetia on post-conflict settlement Murat Dzhioev, without any diplomatic equivocation, called the actions of the group of self-appointed border guards provocation and intimidated Tbilisi "deterioration of the situation".
As a result, Tbilisi was again in the "Ossetian deadlock": the Georgian side can not participate in the demarcation of the border, as called for in Tskhinvali. This can cause the charges to the public in an indirect recognition of the breakaway Republic. But also to prevent the intention Katsarava with his associates no one dares.
Comments
comments