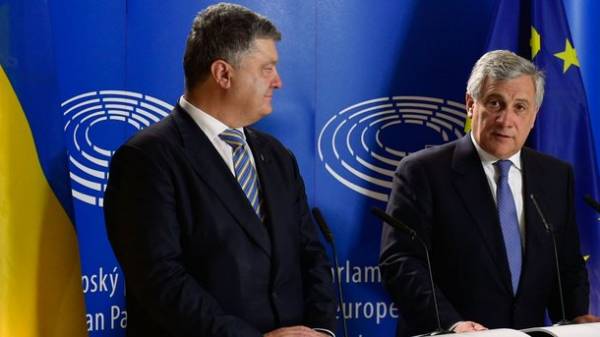 President of Ukraine Petro Poroshenko had a meeting in Strasbourg with President of the European Parliament Antonio Tajani – the parties expressed their expectations that the next step solution should be the entry into force of the Association Agreement, said on Wednesday the press service of the Ukrainian President.
The meeting was held after the signing ceremony the decision on the introduction of the EU visa-free regime for Ukrainian citizens.
Petro Poroshenko expressed confidence that Ukraine will continue to feel the support of the European Parliament, in particular regarding the further filling more ambitious European agenda of our country. As noted Poroshenko, the European Parliament has always been the most ambitious supporter of the European aspirations of the Ukrainian people. That is why the signing of the EU's decision on granting Ukrainian citizens visa-free regime is a common achievement.
The Ukrainian head of state drew the attention of the head of the European Parliament for its continued flagrant violation of the Minsk agreements, the Kremlin, as evidenced by the worsening security and humanitarian situation in the Donbas.
Poroshenko noted the importance of the support of the European Parliament, the preservation of the sanctions regime against Russia until full recovery of the sovereignty and territorial integrity of Ukraine, including Crimea.
The President of Ukraine has expressed strong condemnation of the illegal access to the private members of the European Parliament to the occupied territories of Crimea and Donbass and appealed to the President of the European Parliament with a request to give an adequate response and to prevent such visits in the future.
Poroshenko Tajani confirmed his invitation to visit Ukraine.
Comments
comments