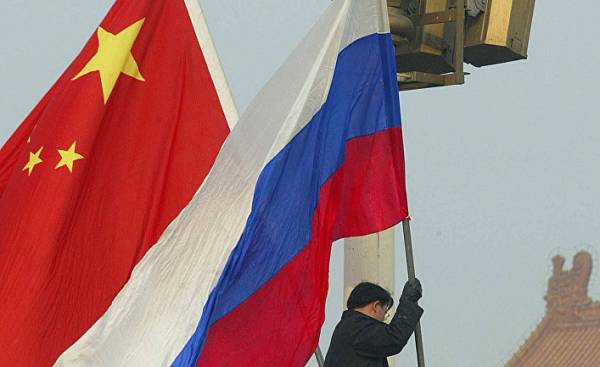 Total area and population of Russia and China is almost 27 million square kilometers and one and a half billion people. And given their allies (Kazakhstan, Belarus, Kyrgyzstan, Iran, etc.), these figures will increase by another five million square kilometers and 300 million people. Thus, a total of about 32 million square kilometers and 1.8 billion people. This is more than Africa (30,37 million square kilometers and 1.22 billion people). The territory of the aforementioned countries stretching from Cambodia to the Barents sea is the Caspian sea, they occupy a dominant position in the Black sea and of crucial in the Baltic. The Alliance with Iran allows them to exercise power projection in the Persian Gulf and the Indian ocean, and through Syria to establish a presence in the Mediterranean sea. In other words, the Russian-Chinese Alliance is in a dominant position in Eurasia, possesses untold physical power, which nobody can resist.
In Asia, there are two players with huge geo-strategic importance: India and Pakistan. USA was trying to draw India to its side, but was faced with two insurmountable obstacles. First: being a regional power, India acts according to his own plan, and to the doubtful and obscure encounters. Second, India is a strategic ally of Russia — the former USSR — and this is not going to destroy the Union, seeing it as fundamental. The more she doesn't want to become a pawn of a distant Maritime power, not playing in the Indian ocean role.
Pakistan, a longtime rival India, with whom they fought three times (and has always been defeated) and is a tight territorial dispute over Kashmir was and continues to be an ally of China. It supports the country close relations in military, economic and strategic areas, which are constantly expanding. On some issues, and depending on the emerging situation, he acts (or not acting) on the side of Washington. It is unlikely he will leave Beijing for the sake of rapprochement with the United States, a country enjoying great fame and producing twisted movies, but unable to win the war. An example of this is the military defeat of the Americans in Vietnam, Iraq and Afghanistan.
In addition, Russia and China continue to carry out his project, perhaps the most ambitious and original in the modern world, to transform the SCO into a leading organization in Eurasia. In June, Pakistan and India joined the SCO as full members. This important fact has not received adequate coverage in Western media. Pakistan joined with the support of China, India and Russia. After taking these two new members to the SCO accounts for 60% of the territory of Eurasia, 45% of the world population and 20% of global GDP. But changes in Eurasia, does not end there. In June 2016, India, Iran and Afghanistan signed an agreement on construction in Iran of a large Chahbahar port (Chabahar), which will become a transit point for trade between Central Asia and Afghanistan. With the commissioning of Chahbahar Iran will cease to depend on UAE in matters of loading and unloading large ships. India, the port will provide an opportunity to overcome the obstacles that Pakistan mends Indian trade with this region. For Afghanistan Chahbahar will be the main outlet to the sea.
China and Pakistan are also engaged in development of port infrastructure. In November 2016 in Pakistan began to operate the Gwadar port (Gwadar), the main element of the Economic corridor China-Pakistan (ECCP) with a length of three thousand kilometers. The agreement on construction was reached in 2013, and the construction started in 2015. China invests in infrastructure in the amount of $ 46 billion, which is three times more foreign investment received by Pakistan from 2008 to 2015. ACCP, connects the Chinese city of Kashgar (Kashgar), located in the Xinjiang Uygur Autonomous region, with the Indian ocean. This gives Beijing considerable advantages, providing direct access to the Middle East and more flexible influence in Africa. Allows to decrease the value of the Malacca Strait controlled by the US Navy (through which a significant portion of its turnover). It acts as a kind of counterweight to the port of Chahbahar and in the end, reduces US influence in Pakistan. In addition to economic growth, employment and modernisation of its infrastructure, the country is becoming a trump card in its long-running conflict over Kashmir, which India considers its territory. There is another important aspect. As noted by the Prime Minister of Pakistan, "ACK is a new concept of diplomacy, based on common goals of prosperity for Pakistan and the region, the project aimed at the eradication of poverty, unemployment and underdevelopment".
Russia is developing with India new routes. In July of this year it was announced the Russian-Indian project for the construction of the corridor North-South length of 7.2 thousand kilometers, which will connect Mumbai with St. Petersburg and will pass through the territory of Iran and Azerbaijan, connecting Indian ports Kandla (Kandla) and Nava Sheva (Nhava Sheva) with the Iranian port of Bandar Abbas (Bandar Abbás), where will the trains in Russia. This corridor is similar to the New silk road, through which China intends to exit in Eurasia and Africa. Weekly from China trains in Spain, and in January entered the Stroy line Yiwu to London, connecting the UK and China. The rail journeys of over 12 thousand kilometers will take 18 days. By sea it will take 30 days.
It should be noted that the issues relating to the construction of new trade routes all four powers peacefully compete with each other. The proposed routes complement each other. Russia supported the Chinese project "New silk road", and China — EurAsEC, Russia has high hopes. In 2014, Iran has signed with Pakistan nine memorandums of understanding, and in March of 2016 — six cooperation agreements. "Pakistan's security is our security and the security of Iran is security of Pakistan", — summed up the President of Iran Hassan Rouhani.
Before the XII summit of "big twenty" Chinese President XI Jinping paid an official visit to Moscow. It was his 22 meeting with Vladimir Putin after taking office in March 2013, that is, more than five meetings per year, or an average of one meeting every two months. And if we add to this the meeting of the Russian and Chinese Ministers and other officials, we get the following picture: constant daily dialogue between Moscow and Beijing, which gives an idea about degree of mutual understanding between the two powers. XI Jinping and Putin discussed the establishment of a free trade zone between China and EurAsEC, as well as Chinese participation in the construction of high speed railway Moscow-Kazan. In addition, they signed agreements on cooperation in energy, space research and food production. The parties intend to increase trade to $ 200 billion and boost Chinese investment in Russia to $ 12 billion by 2020. It also established an investment Fund for the development of relations between the northeast regions of China and the Russian Far East. As noted by XI Jinping, "China has become the largest trade partner of the Russian Far East."
Deserves a separate discussion of Russian-Chinese military cooperation. In June of this year in Astana, the defense Ministers of the two countries signed a road map on strengthening of military cooperation between Russia and China in the period from 2017 to 2020. As pointed out by the Chinese side, the signing of this document indicates "a high level of strategic mutual trust and strategic cooperation between the two countries". Militaries of China and Russia to hold "regular consultations on strategic security issues", the last one was held in September 2016. Russia is the only country that supplies China with large quantities of arms and provides services in the military field. The Russian defense Minister Sergei Shoigu during his visit to Beijing in November 2016, said that the volume of arms sales is approximately three billion dollars a year.
If we compare these fantastic sums and projects of Russia and China with what is happening in Europe and the USA, we get a very rough idea of the prospects for peace. Decrepit and crumbling, the West has no similar projects. Over the past two decades, he has initiated a series of wars and military interventions, armed and unarmed, distabilizirovali other countries, from Ukraine to Africa.
Trump requires Europe to increase their military spending. Requires NATO to send Afghanistan more troops and increase their numbers in Syria. Ossified and outdated socio-economic model can only lead to war and violence. NATO focuses its military machine against opponents that are five times greater than that of the Alliance for resources, territory, scope and ability to mobilize. They occupy a huge space, which is impossible to win and, although also actively armed, but peacefully build the economy of the XXI century. Not hard to guess what will end up one and the other. The economy and the future for Eurasia, a Peninsula of Europe should join it and not to carry out suicide plans for its submission. New global rules based on cooperation, development and peace. Imperial war are a relic of history. I wonder whether you understand Europe in time for new rules?
Comments
comments