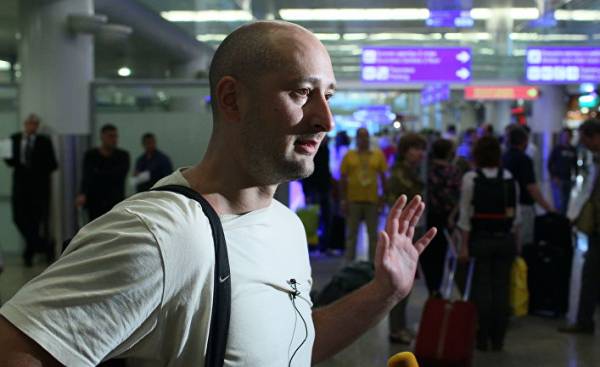 Russian military journalist and blogger Arkady Babchenko in the second part of the interview "" has told that Russia will make Crimea, why not Russian riots can knock over power in the Kremlin, which may force Europe to fight for Ukraine, and why now increased the probability of a major world war.

"Apostrophe": What is the perspective of the annexed Crimea?
Arkady Babchenko: From the Crimea they will do candy as they did the candy from Grozny. Bridge [across the Kerch Strait] and they will build, I'm sure. They vbuhali so much money there that it is possible for Mars to build a town. Think of Yalta and Sevastopol will make some sort of Moscow — lay out all the tile, everything will be wonderful and beautiful. Then you can forget about civil rights and the right of ownership, the right to life, freedom and other things. When will the bridge there will go tourists and will be proud of. The presentable class, which is enough of the Crimea, there is not going because of problems with logistics.

— And ways of the decision of the Crimean issue, Ukraine has?
Force. But I don't think Ukraine will be able to do it. I do not think that Ukraine is ready to do it big war. A political solution at the moment I do not see. If we talk about the return of the Crimea, using this term in relation to Russia, the Crimea return can only be a dictator. It must be a political dictator-suicide, who will come to power with a single purpose — to return the Crimea. I think this option is unlikely.

Even opposition leader Alexei Navalny speaks to the fact that he sees no way to return to the Crimea. At the same time he participates in a debate with one of the organizers of the war in the Donbass Igor Girkin (Strelkov). Why talk to a terrorist and a murderer?
I don't know what to say to Small, even if we set aside moral and ethical principles. Alexei Navalny says he wants to win over supporters of strelkov. You need to understand that the whole environment strelkov is 20 people: his loyal fans and crazy Cossacks. The movement "new Russia" no longer exists. No political weight in Russia it has, therefore, to discuss them with moral, ethical, or political point of view does not make sense.
After discussion with the Shooting, what will happen to the rating of Navalny and the protest movement, which he organizes?
— Some of the rankings after this debate he will lose. His role in Russian politics is that it is the only RAM. More no one left. He turns to rock the boat, and I support him in that. But that is not my candidate. I would not vote for him.
— I don't think he is allowed to do this?
— Of course, there is a game: it is used to drain the dirt, he uses those who drain it. Don't know which of the towers of the Kremlin supports it, but the support is there. Any man who would do such things would have long ago and was sitting. Probably would have been killed.
— Could the presidential elections in Russia to repeat the situation that was during the elections of the mayor of Moscow in 2013, when Navalny took the second place (27%), taking his entire protest electorate, and thus ensured the victory of the candidate from the authorities Sergei Sobyanin in the first round (51% of the votes)?
— Certainly again, if it will allow for elections. He gets a large enough percentage of the vote. Even if he gets 90% of the votes, the power of it is no give, it will be resolved in elections and on the street. But the situation before the barricades is not yet ripe. People are not ready to go to the barricades, so in 2018 there will be nothing. In Moscow the dough more fully.
— And in the regions?
— With the regions, nothing will. Money there was not, in principle, they are not and now they don't know what it is. When I read in the feed that the dollar was 30 rubles, and was 60 rubles, and now it all begins, you guys in the regions have traveled? I have a village 500 kilometers from Moscow. There are words like dollar and a barrel of oil does not exist. This is another universe. In Russia in the regions has never solved anything. The regions are already active in the riots.
The question is, when the situation comes to the fact that in Moscow on Red square will be half a million people and leave. When that happens, then we will have something to say and while to talk about.
— When we had the first and second Maidan, said that such protests are more typical for Ukraine than for Russia.
— Russia rebel always, constantly for the past thousands of years. Just lost always. Power in Russia is strengthened and strong, something to knock over, it's difficult. Russia is now the second strongest dictatorship in the world.
The first President of Turkey Recep Tayyip Erdogan, the second is Putin and who is the third?
— Who's third — it doesn't matter. You have to understand that those 10 to 14% who want change, but they are stretched over 7 thousand kilometers. And the power concentrated in one place, and it's strong.
— Possible situational Alliance between the two dictators?
Temporary possible. It should be understood, if there are two countries, each of which raves about its greatness, its uniqueness in each of them there's a dictator living in their own world, they can join only for the sake of tactical interests.
— For what?
For example, Putin will need once again to support [Syrian President Bashar] Assad and Erdogan will need to capture Northern Kurdistan.
— Putin may together with Erdogan to act against Europe?
— Against Europe were made quite strong attack. This marine Le Pen in France and Geert Wilders in the Netherlands, and [Prime Minister of Hungary] Viktor Orban and Czech President] Milos Zeman. With Le Pen failed. The French said, "good riddance. Do not want." If they managed to push Le Pen, the situation in the world would change very much — in a bad way.
But this does not mean that Putin will leave Europe alone?
— Putin should not be underestimated, but should not be overestimated. He cannot so to influence European policy to put people in the presidency. They tried, but they failed. Almost got it. But are unable to do even that. But try they will. Well, in Europe began to understand what was happening. Three years ago, come to Europe and start to tell, and people don't understand what you're saying.
— The Ukrainian question helped them understand?
Even after the Ukrainian question they didn't understand. Trump, Le Pen and the attempt to interfere in the election hurt them. And Ukraine is not particularly touched.
— As in General in Europe are looking at the Ukrainian-Russian crisis?
They understand, judge, but that's all. Europe is not eager to fight for Ukraine, while there's no such a large-scale invasion and Russian aircraft bombed Kiev yet has become impossible to get out. No hurry to fight with the 140-million country. They are trying to resolve. For Europe freedom and human rights — the fundamental values, but much closer to the body a quiet life and material gain. As now Siemens in the Crimea: "Oh, we don't know." Okay, come on. Loot defeats evil.
— If to speak about a possible intervention of Russia in the parliamentary elections in Germany, which will take place in September, there will be more difficult than in France to undermine the situation?
— I feel that Germany will win again Angela Merkel. Germany remembers your flu shot perfectly — all these 70 years they remember perfectly, taught them wonderful, in the head drum is wonderful. They all remember, and Russia including.
All the long-awaited meeting between US President Donald trump with the President of Ukraine Petro Poroshenko and Russian President Vladimir Putin. How do you assess the outcome of these meetings?
— There are no outcomes yet. But the fact of the meeting is the unconditional victory of Putin. Yes, and the fact that he went to Hamburg to the summit of "Big twenty" and he was received there, took photos with him, suggests that Europe is ready to think about having to go to the rollback. The main thing here is the meeting of Putin and trump. Met two of loneliness, looked into each other's eyes, I realized that they are from the same gate, I realized that to understand each other better than others understand them — they found each other. It is clear that trump will play my game, and Putin is in his. Trump understands Putin, and Poroshenko doesn't understand. Poroshenko was not included in their company.
To our luck, United States of America was not formed yesterday. For almost 300 years this country has managed to build such public institutions which could destroy even the trump. Now the problem is worldwide is that the power start to come inadequate people.
— What is the reason?
— 70 years the planet was not at war, there was a giant grinder, so so bad. Someone is guilty of something, let us again to kill someone. It seems to me that the chance of a large world war now will increase very much.
— Which regions can be attributed to the potentially dangerous?
— Russia, Turkey, my favorite, absolutely crazy [the President of the Philippines Rodrigo] Duterte also climbs. In Venezuela too, all good. Europe still exists, but there is the Czech Republic, Hungary and the Balkans.
The Balkans themselves to break out or they will help Russia?
— Well, the Balkans will not flash. How they tried to do something, but not broke. But the situation will rock.
— Whether in the world to accumulate fatigue from this bad guy Putin, who climbs everywhere?
— Can. But in the same degree can be accumulated fatigue from the insolubility of this problem. The bad guy — he is stubborn, not going to retreat. He can push, and the international community will say, "Well, to hell with it. Let takes back Ukraine, but then not go". This option is possible.
— It is likely a new framework agreement or modify the rules of the game?
Yes. For example, you go to the Donbass, and we'll leave the Crimea. We leave the Crimea and remove the sanctions, but you won't climb. Or do we recognize that Ukraine is in the sphere of your geopolitical interests, but as far as you climb. The situation may turn different. Although, maybe Merkel will come and say: "I am bored. This is my last term. Let's soak Putin."
— Putin prepares for presidential elections in March 2018. What will this campaign?
— In Russia there will be elections in 2018. In Russia there is no election in 2024. Will the special operation under the statement of Vladimir Putin on the throne. I'm very annoyed with the phrase "elections in Russia". It is from the same series: "How do you spend your free time in Russia?" "We in Russia have never been at free time."
— In Ukraine, believe that we have no free elections.
— Come on. You have free elections relatively fair access to media, candidate registration, candidates do not put and not kill. Compared to Russia, you election all right. In Russia-and there are no elections, and the President. I am annoyed by the phrase "President Putin". He is not President, he is a usurper. In 2012, there was a violent seizure of power, and all who were then in Moscow, I saw the city center which was Packed with cops and military. And no authority by ticking on the ballot he will not give up ever.
— How is it that there are no elections, and the support is there?
— And as "ihtamnet", and prisoners there.
— Whether there is in Russia now the opposition?
I was, not now. I'm here, here, Ilya Ponomarev, Boris Nemtsov, murdered, half in Prague, half in America, someone in tel Aviv. She destroyed. There was one Bulk. But it is not the opposition and the protest movement.
— Recently the court has sentenced the killers of Boris Nemtsov — they received 10 to 20 years in prison. Will be installed once the customer?
— Yet never one customer political murders in Russia has not been installed. Here the same: the performers established, the organizers set, and then the chain breaks.
— Arkady, you have passed two Chechen campaigns, tell us how you got on the war?
— I was such a romantic 18-year-old boy who had read the Note. I thought all the kill and I will save the regimental flag, and the nurse bandage my wounds, and I'm hugging her, so full of himself would say: "don't cry, baby, I'm with you." It turned out not so. The war I wanted, but I didn't ask.
We built the island and asked, "Who wants to go to Beslan to the bakery to make scones?" I and ten other people agreed, and 1 thousand 490 people said, "fuck you… we want to serve close to home". The next day we went to the echelon in Mozdok (a town in North Ossetia).
On the Second Chechen war, I volunteered. It was post-traumatic stress syndrome — the cuckoo stuck on the First Chechen. I went back, looked that Moscow thumps, casino, Mercedes, saying: "they kill people, what are you doing? You crazy?" I do not understand this world and left. I didn't care where the war is, I just went off to war. Then I began to think and reflect. People do not shoot and tried to save them.
When the war with Georgia in 2008, I worked in "Novaya Gazeta". The power of Putin did not accept, but the opposition was not. Then I had to associate themselves with Russia, with this army. Yes, my country is wrong, Yes, my army is wrong, but this is my country and my army. Let's make an effort to change that, and to make sure this never happened again. And in 2014 as the cut. There is one heap of shit, second time was shit, the third time in a heap of shit, but after, when you stepped in the shit for the fourteenth time — go to hell. I can not associate with Russia in any way. I don't associate myself with the army in any way. I worked for 15 years helping veterans, those 18-year-old boys who went to war, I worked with the Fund "the Right of the mother" tried to sue them any money. Now I can't see people in the Russian form. Despite the fact that they fought in Chechnya.

— Who now is at war on Donbass?
— In different ways. When in 2014, said that fighting mercenaries, they were volunteers, the real ideological, which dripped into the brains that the "Bandera fascists" kill the Russian. There were many ideological Imperials, which was a little "Krymnash", they decided to put Ukraine back into the stall and punish "gastroenerology". There were a lot of morons, many poor alcoholics of the regions.
Now it is all gone. Now there is a solid mercenary. Go there only to earn money 15 thousand rubles (about 6 thousand hryvnia — approx. ed.). Like Ageev. Why go? Because there are no jobs. Well, he came after the army to your Altai Krai. What he will do? Thump, five years in jail. And here the work of the army, see the world, the Ukrainians to kill, in his understanding well. There are a lot of factors.
One of the military experts in interview "" told that the ATO is a resort where men escape from domestic problems…
— In war, all is well: you fed, watered, do not need the apartment — there is a dugout.
— Shoot so well?
— Well, it's bad, of course. But it is fed and watered.
— Then with the rehabilitation to be after this so called resort?
Is what Ukraine had to do in the first place. Must be a state program of rehabilitation. This is the most important thing. The meaning of rehabilitation is the restoration of dignity. People went to war, became a cog in the machine, lost all of his dignity, has been walking around a face in shit, fear of death experienced. The most important feeling in the war — sacrifice. People returning from the war, waiting for what society expected him to self — sacrifice. He is faced with the fact that it is not that causes rejection. This, in turn, leads to the stratification of society. Very sorry that this not done by the state of Ukraine. This is a costly and time-consuming, but it should be done. How to do it? Please best example is the IDF (Israel defense forces). Collect a Commission, send — let studies. There are moments, how to rehabilitate soldiers very much.
How much time is needed to return the soldier in society?
— About five years. Really sausage five years. Ten already let go. After 15 years of releases at all. Although it will never end. But after 15 years, I have ceased to jump up screaming in a cold sweat.
— In Russia there are such programs?
— In Russia there is one program: dead Maxim — and figs with it. Other programs in Russia.
— If to speak about foreign military experience, how the Israeli approach is applicable to Ukraine?
Everywhere situation is unique, and the experience of others is completely not applicable. You need to look, filter and take all the best. There is one absolutely wonderful experience of counter-terrorism, who cranked one country are destroying the entire territory of the carpet bombing, and then put back in his thug and fill it with money. Here's the program. So Russia acted in Chechnya. Ukraine is? I think not.
If this thug will no longer give money when he will go to Moscow?
— If Putin will not go. But when comes the boom-bara-boom, you have to understand that Ramzan Kadyrov is the second force in Russia after Vladimir Putin. This man, who has his own personal army. According to various estimates, their number ranges from 20 to 70 thousand people. I think closer to 20-30 thousand.
Thousands of re-enactors was enough to put sideways 100-strong Slavyansk, and in order to put side Russia will be only 10 bands 10 thousand people. That was from 1917 to 1921.
In Chechnya hate him. Such as does Chechnya Kadyrov, it has not been done. If he decides to sit on the throne in the Kremlin, Chechnya will support him to the last man. It will be revenge for centuries of genocide. In the Caucasus it's complicated, but in Chechnya, it is very, very difficult.
— Where polyhnet in the first place?
— All Russia, in General. I don't think polyhnet, for example, in Kaliningrad. When everything starts to crumble, the Kaliningrad quietly and peacefully converted to the Russian Baltic Republic and say that he is good and he is in Europe.
The Far East. When I was during a flood in Blagoveshchensk (one of the most devastating floods in Russia, which occurred in 2013, during which more than 8 thousand houses were flooded — approx. ed.), I talked with people there all supporting the ruling party "United Russia". They say: "We have these rules imposed on Moscow. We have to make them. If you start to push us, then we are exactly as received, from you and be ye separate."
— Intellectuals can be the basis for the protest movements?
— Experience has shown that the intelligentsia is able to swing the ducks, but unable to burn tanks. Society is the body of the grenade, and some radicals it is the fuse. In Russia, this fuse was: on the one hand, the NBP (National Bolshevik party, banned in Russia in 2007 — approx. ed.), on the other hand, the nationalists. The NBP now all fighting in the Donbass for the "Krymnash" and became a wholly-Putinists. The nationalist movement was divided into two parts: lower — "Krymnash" big — vs "Krymnash". Everything is destroyed. Therefore, in Russia have a grenade, a fuse anymore.
Comments
comments