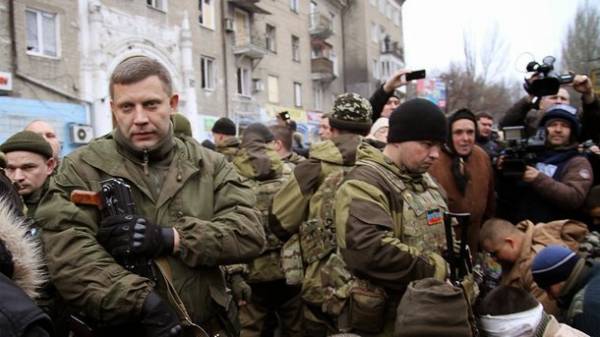 Kiev as soon as possible to eliminate the unrecognized formations in the Donbas the so-called "DNR" and "LNR", as the statements of the leaders of the militants on the word "little" discrediting Ukraine. This was told in the comment "observer" the Russian oppositionist Konstantin Borovoy.
He believes that the initiative of the militants on the creation of new "States" in Ukraine is the personal desire of the leader "DNR" Alexander Zakharchenko.
"The story of the "new Russia" was over long ago, the story ends with the bandit formations. This became clear not only in Ukraine, not only in Russia but also the international community. His statement is an attempt somehow to stay afloat, somehow, to remind myself, to legalise its own criminal situation. I think it is a personal initiative Zakharchenko. Apparently, there is now really bad and with financing, which is declining, and with the financial support of the bandit groups, providing weapons." Of course, Maria Zakharova, the Russian foreign Ministry, the Kremlin is inadequate, but to such an absurdity, they still do not reach. Everyone understands that we are talking about ordinary bandits, who, among other things, such statements discrediting and the Kremlin," – said Borovoy.
Read also: Poroshenko reacted sharply to the statement Zakharchenko about the making of "the Ukraine"
In addition, such statements create a negative for Ukraine, so this issue bandopadhyay in the Donbass should be resolved by force.
"This is a reminder that ordinary criminals on behalf of the citizens they hold hostage, to make statements. Can we tolerate this situation? I think not. For the Ukrainian authorities is a reminder that on the territory of Ukraine, – fortunately, not in Kiev and not in Kharkov, and in Odessa there are common bandits that must be eliminated, the sooner the better, otherwise they will continue their criminal activity. The bandits make political statements. Answer of Ukraine must occur, and must be armed and radical. Need to solve this problem. Probably not, as Putin is doing – using tanks and flame throwers, but with the use of the Armed Forces," – says the Russian opposition.
We will remind, today in the Russian media appeared information that Zakharchenko said about the establishment of a new "state" of the so-called "little Russia." According to him, the new "state" the camp of the successor to the Ukraine. He also noted that the capital of the "little" in the city of Donetsk, and Kyiv city remains a historical and cultural center of the capital city status.
In turn, the representative of Ukraine in the Trilateral contact group on settling the situation in Donbas Yevhen Marchuk noted that the statement by Alexander Zakharchenko to create a "little" puzzling "the Minsk process".
Comments
comments