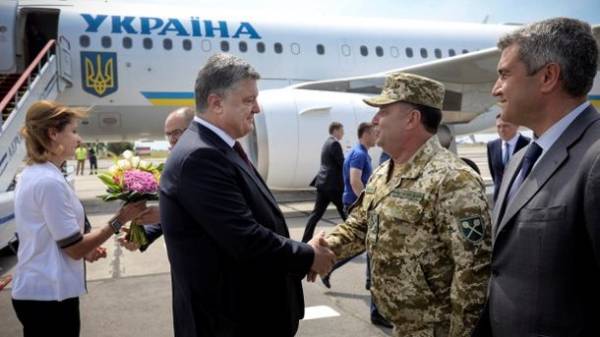 The President of Ukraine Petro Poroshenko believes that through the joint with the Ukrainian military exercises, NATO troops will be able to learn from the experience of Ukraine in countering Russian aggression. He stated this during his stay on Board the frigate "Hetman Sahaidachny" in the framework of the visit to Odessa.
According to him, Ukraine will help NATO countries to learn how to counter Russian hybrid war.
"These exercises are effective not only in increasing the level of training of our armed forces – they are also important for foreign participants, which would enable them to learn from us the unique experience of fighting the enemy in a hybrid war waged against the Ukrainian people in the Russian Federation. Our intention to return on the agenda the question about the action Plan for NATO membership", – said the President.
Read also: Stoltenberg voiced the alarming detail on military exercises of Russia "West-2017"
"We, Ukrainians, have felt the threat to world peace, which is generated from the Kremlin, from the capital of the country, which Reagan called the evil Empire", – said Poroshenko.
As reported, Poroshenko visited the frigate "Hetman Sahaidachny", where he welcomed participants of the Ukrainian-American military exercises "XI Briz-2017".
Recently said NATO Secretary General Jens Stoltenberg, Ukraine should go to NATO with "substantive (independent) partnership". In his opinion, first and foremost, Ukraine needs to strengthen defense institutions.
Comments
comments