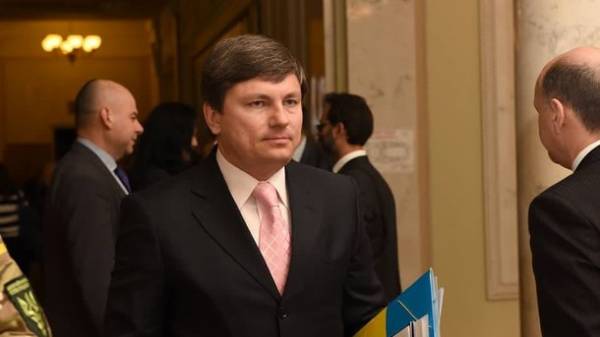 The President's representative in the Verkhovna Rada Arthur Gerasimov called the conditions of ending the economic blockade of Donbass. He told about it on air of the program "Left coast Sonya Koshkina," reports "UKRINFORM".
"The blockade may be terminated subject to three conditions: full ceasefire, withdrawal of heavy equipment and returning the enterprises in the Ukrainian jurisdiction," – said Gerasimov.
He added that all of these items are included in the Minsk agreements, which Ukraine strictly fulfilled.
Gerasimov, rejected the contention that the decision of the NSDC on the introduction of a formal blockade was a spontaneous reaction to the blockade of trade with the invaders, which nearly two months were veterans of the military operation.
"The basic principle that we must speak – you need to clearly distinguish between the blockade and the decision of the NSDC. When we talk about the decision of the Council, it was a response to one simple thing – that enterprises in the occupied territories were simply to say "depressed" by the militants, and then there was a clear demand that "now, colleagues, you have the money to pay us, terrorists!" – said the representative of the President in Parliament.
He assured that before the recent events, the money of the invaders did not arrive as it was a Ukrainian company, so all transactions occurred under Ukrainian jurisdiction.
We will remind: on Wednesday, March 15, at the meeting of the national security Council, President Petro Poroshenko has proposed to suspend transport links with the occupied territories of Donbass.
NSDC supported the proposal of the President in connection with the seizure of the Ukrainian enterprises and the worsening situation in the zone of military operations. From 13:00 on 15 March was blocked all road and rail routes to the boundary line.
Comments
comments