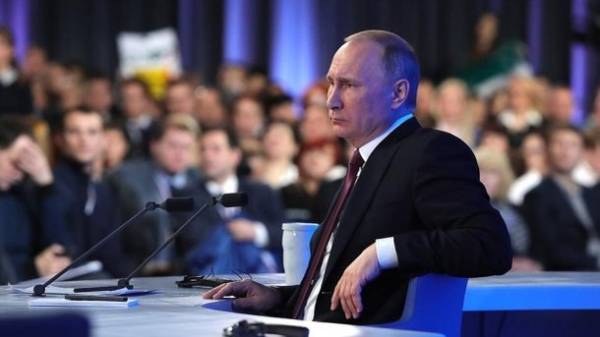 The biggest problem of Russia is that its gold reserves are in the West and access to them is blocked. This was stated by the journalist Dmitry Gordon in the TV channel "112 Ukraine", reports "GORDON".
In his opinion, Russian President Vladimir Putin is now held hostage by their situation – can't afford to give the Crimea, but also to keep it very painful.
"Putin wants out of this adventure (from the conflict in Ukraine – ed.). How? Let's lay the cards. To Give The Crimea? Well, for him it is tantamount to suicide in the eyes of Russian voters. Especially ahead of the elections scheduled on the day of the Crimean referendum. That is for him to give the Crimea – suicide, and everyone knows it. On the other hand, in the Donbass the Russians spent a lot of money. In order to keep the army in the trenches, we need a huge infusion of. The Donbass, which he does not want to pick up is a problem, a lot of money is a problem," said Gordon.
He noted that Putin, there is a much bigger problem – blocked access to the foreign exchange reserves of the Russian Federation in the West.
"But there is one biggest problem that nobody's talking. Sanctions are all well. But Russia's international reserves placed in the West. And access today from Russia. And if you do not have access to its own large foreign currency reserves, it is possible to finish badly. There are clear sanctions, and there are implicit. Blocked out, take my gold and currency reserves, Russia can not" – said the journalist.
According to him, Putin wants to get Ukraine, but the West for its future in Russia.
"And what happens to the gas market, and the fall in oil prices is not caused at the time nothing is that? And the fact that Europe begins to abandon the Russian gas goes to LPG, which comes in the terminals from the United States of America is that? And against this background, let's speak about the negotiations. About that Putin – I know now announce – wants to get out of this whole adventure, but he wanted assurances of the West that it is not lost in the eyes of their constituents. That is, for him it is essential to keep his job because if he does not retain his post, this is the end, this fiasco," concluded Gordon.
Recall that in March 2018 in Russia will take place presidential elections
As he told a military expert Alexey arestovich, West through Ukraine kicked out the Russian troops from the Donbass and will try to prevent Russian President Vladimir Putin to become President in the elections in 2018.
Comments
comments