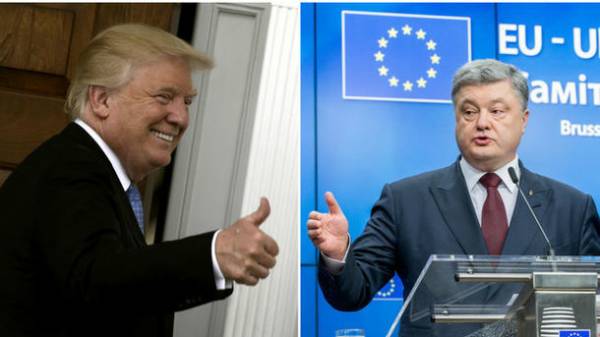 The President of the United States Donald trump should also be interested in meeting with his Ukrainian counterpart, Petro Poroshenko, to wash away the scandal in relations with Russia. This was explained in comments to the TV channel "112 Ukraine" by the political expert Taras Berezovets.
In his opinion, Washington is interested in the revision of relations with Kiev.
"The American administration is looking for the format of the reset in relations between Kiev and Washington, said about the so-called resеt policy, although the word is somewhat offensive, not least because it was used by Secretary of state Hillary Clinton with Sergei Lavrov, the reset of relations between Moscow and Washington," said Berezovets.
He also noted that voting for new sanctions against Russia showed how American policies are set against Moscow. "The Senate vote last week, which scored 97 votes out of a possible 100 showed today toxicity a Russian theme for any politician".
"This is what trump wants to wash away the scandal with Russia. Therefore, Poroshenko's visit to him no less favorable than the Ukrainian President," – said Berezovets.
As reported today in the White house, the meeting between Petro Poroshenko and Donald trump will be held tonight at 18:00.
Comments
comments