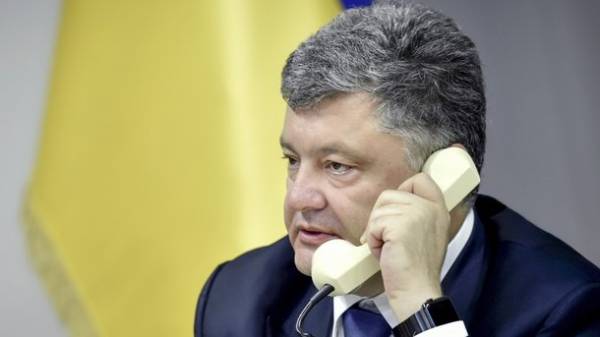 The President of Ukraine Petro Poroshenko in the evening on August 22 held a telephone conversation with the leaders of the "Normandy format". About it reports a press-service of the President of Ukraine.
Poroshenko announced a visit to the city of shchastya, near Luhansk occupied, and meeting there with representatives of the advanced base of the SMM, the OSCE, which are permanently based in the Village of Lugansk. The President of Ukraine expressed full support to its round-the-clock work in the city.
SEE ALSO
Poroshenko: Russia and her puppets will get a decent response in case of attempts to go on the offensive
The President also called for the immediate release of all Ukrainian hostages who are illegally held in captivity.
The results of the telephone conversation, the leaders of the "Normandy format" agreed on a joint statement.
In particular, the heads of States and governments of Ukraine, France, Germany and Russia "expressed strong support is scheduled for August 23 the decision of the Tripartite contact group to declare a ceasefire on the occasion of the beginning of the school year."
SEE ALSO
In Minsk held a "secret" meeting on Monday, were part
"The leaders expressed hope that the ceasefire will lead to a sustainable improvement of safety in the interests of the students and the entire civilian population of Donbass. On the basis of a sustainable ceasefire, the leaders reaffirmed a personal devotion to the further implementation of the Minsk agreements", – said in a statement.
Earlier it was reported that the President of Ukraine Petro Poroshenko intends to present the idea of introduction of peacekeepers in Donbass at the session of the UN General Assembly in new York in September.
Comments
comments