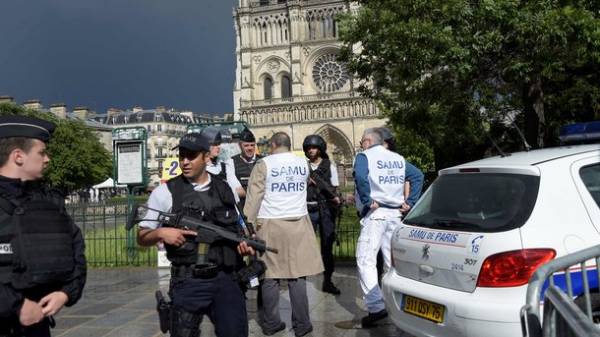 A man who attacked a police officer near the Notre Dame Cathedral, shouting that revenge for the events in Syria, said Tuesday the interior Minister of France Gerard Collon.
"He shouted: "This is for Syria". Additional data we have so far," said the Minister, who came to the Cathedral.
J. columns explained that in connection with this mention of the Syrian judicial authorities do not exclude that speech can go about trying to attack.
In turn, the French media reported, citing sources close to the investigation that the man also said that has to do with the terrorist group ISIS and call themselves a "soldier of the Caliphate (proclaimed by state terrorists – ed.)".
As reported, the French officers took down a man who tried to attack near the Notre Dame Cathedral.
The attacker was wounded. According to the newspaper "Figaro", it is a Frenchman of Algerian origin.
One of the officers was slightly injured.
The man snatched one of the police officers near the Cathedral. He tried to back stab a police officer with a hammer. One of the guards opened fire on him.
To the scene arrived more guards. District, on whose territory the incident occurred, cordoned off. The police checked whether the assailant's accomplice.
The employees of the office of the French Prosecutor's office responsible for terrorism-related cases, began an investigation into the incident.
Comments
comments