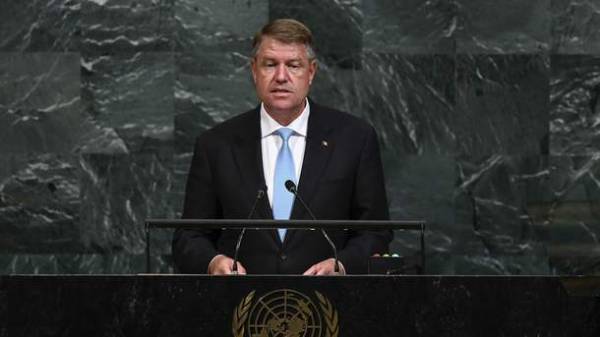 Romania's President Klauss Iohannis has cancelled a visit to Ukraine and meeting with the speaker of the Verkhovna Rada Andrew Parubiy in connection with the adopted by the Parliament law "On education". This was stated at a press conference in new York after the UN General Assembly, reports TV channel "112 Ukraine" with reference to Agerpres.
"So, after learning about this law (the law "On education. – Ed.) I canceled his visit to Ukraine. Also cancelled a reception of the Chairman of the Parliament, scheduled for the end of September, thus handing over a diplomatic signal. Cancellation of a presidential visit is a very strong signal," he said.
According to him, the Parliament adopted the law allegedly violates the rights of national minorities.
SEE ALSO
Poroshenko: Ukraine does not prohibit the study of the language of national minorities, but every child should know Ukrainian
"The fact that this law, if passed, would severely limit the access of national minorities to education in their native language, and for us it is very disappointing. Ukraine is home to many Romanians," Iohannis stated.
As reported, on September 5 the Verkhovna Rada adopted the law "On education", which envisages reforming of the educational sphere. The law introduces 12-year secondary education in Ukraine. The law stipulates that the language of the educational process in educational institutions is the state language – Ukrainian.
Later in the Romanian foreign Ministry expressed concern about the accepted lies with the education act, and Hungary announced that it would stop supporting Ukraine in the international arena. Also, the President of Moldova Igor Dodon criticized the Verkhovna Rada adopted the law on education and urged Ukraine to reconsider its new policy towards national minorities.
On 19 September, the Chairman of the Verkhovna Rada of Ukraine Andriy paruby signed previously adopted by the Parliament law "On education". He added that he signed the document on Tuesday will be transferred to the administration of the President of Ukraine for signature to the head of state.
Comments
comments