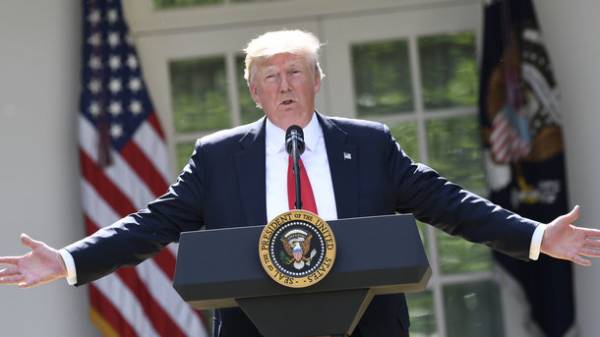 The President of the United States Donald trump immediately after coming to power gave the state Department the Commission to develop proposals for the lifting of economic sanctions against Russia.
It is reported by Yahoo News, citing its own sources, reports "Ukrainian truth".
Unknown to the public at the time the senior officials of the administration to trump almost immediately after they entered into their positions, instructed the staff of the state Department to develop a proposal for the lifting of economic sanctions and the return of diplomatic property, and to develop steps to defuse tensions in relations with Moscow.
Sources said that such efforts aimed at easing and lifting of sanctions imposed by President Obama in response to Russia's actions in Ukraine and interference in U.S. elections, has alarmed some officials of the state Department, which immediately began to put pressure on the leaders of Congress about the urgent adoption of the law that would have blocked such plans trump.
"The white house has seriously considered lifting sanctions unilaterally," said Dan fried, a former employee of the State Department, who was the main coordinator for sanctions policy until he resigned in late February.
According to him, during the first few weeks of the beginning of the new administration, he has received several "panic" calls from U.S. government officials, who were ordered to develop a package for the lifting of sanctions. "Please, my God, you can stop it?" they said Frieda.
Fried then contacted several congressmen to accelerate the adoption of a bill that would have prevented the lifting of sanctions against Russia.
According to Tom Malinowski, a former assistant Secretary of state Department on human rights under the Obama administration, the new administration of the White house also planned to organize a meeting trump and the President of Russia Vladimir Putin to achieve a "great deal" with Moscow.
According to Malinowski, that all changed in connection with the scandal associated with Michael Flynn, former national security Advisor of the US President. He added that after that, it became clear that in the case of the lifting of sanctions would be a "political storm".
We will remind, the adviser to the President for national security Michael Flynn resigned on 13 February because of the scandal of contacts with Russia.
American media reported that last month before the inauguration of Donald trump's national security Advisor, Michael Flynn could privately discuss with the Russian Ambassador in Washington, the fate of U.S. sanctions against Russia, contrary to the assurances of the administration of the President of the United States.
Comments
comments