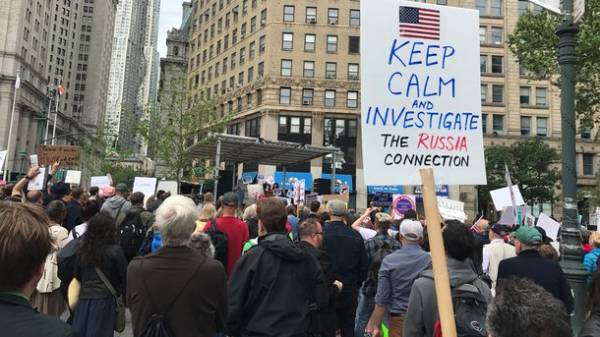 In the United States continue a "March for truth" in which the participants need to investigate the when Donald trump of Russia. Shares held under the slogan "March for freedom", reports UKRINFORM.
In Washington, protesters gathered at the White house with the hands the placards, demanding investigations by independent bodies when the environment trump with the Russian government. In the morning there were about half a hundred people.
[email protected] "Donald Trump believes in a sad, small-minded America… That is exactly what Vladimer Putin wants." #MarchForTruth pic.twitter.com/aBgqRJHlIO
— #MarchForTruth (@MarchForTruth17) 3 Jun 2017
In addition, large-scale demonstration runs in the centre of new York at Foley square. The Marchers, in particular, noted that the scandals and the instability that arose as a result of exposure relations of the environment trump with the Russians is exactly what the Russian leadership wants. Already nine in the morning at Foley square gathered several hundred people.
In addition to the requirement to engage an independent Commission to investigate Russia, the protesters are calling President trump to release his tax returns, which still remain unknown to the American voters.
powerful image: american patriots vs traitors #MarchForTruth pic.twitter.com/FX3fL3rKHU
— marisa kabas (@MarisaKabas) 3 Jun 2017
The campaign received its hashtag in social networks #MarchForTruth. Facebook to that end, even established a separate page https://www.facebook.com/marchfortruth/, which for several days was chosen by the more than eight thousand people.
The organizers of the "March for freedom" reported that in addition to Washington and new York protests held in Philadelphia, Boston, Chicago, Buffalo, Pittsburgh, Detroit, and dozens of other cities in the United States.
Comments
comments