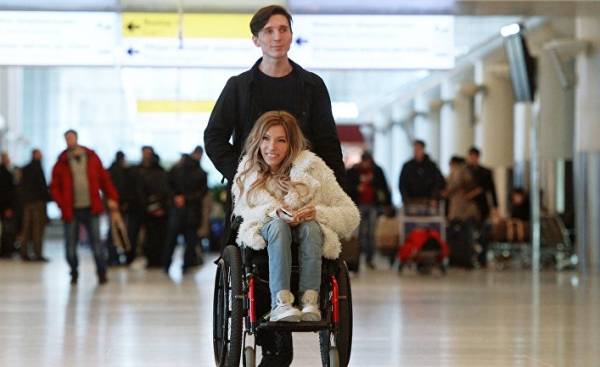 The conflict for three years running between Ukraine and Russia, is having a clear impact on the Eurovision finals, which will take place in Kyiv on may 13.
As a Corporation NRK wrote earlier, the Russian party Yulia Samoilova may not get permission to enter Ukraine for his presentation.
The reason is that she allegedly violated Ukrainian law by his recent performance in the Crimea, which was annexed by Russia in 2014.
Preparing for the ban on entry
The Minister of foreign Affairs of Ukraine Pavlo Klimkin has stated to the Russian Agency of international information "RIA Novosti" that the direction Samoilova for participation in the Eurovision song contest is a provocation.
According to Interfax, the security Service of Ukraine has prepared a document, stating that Samoilova denied entry to Ukraine. The open question is whether President Poroshenko to reconsider this decision of his security.
Jon Ola sand (Jon Ola Sand), head of Eurovision at the European broadcasting Union, said that Union received a message stating that this issue is not yet decided.
"We are closely monitoring the developments and are trying to find a solution that can make Eurovision a fantastic event, as well as the Ukrainians," says sand in an interview with NRK.
He stressed that in Ukraine there are powerful forces whose actions are aimed in different directions. Some want to come and participated in the Eurovision song contest as well as other artists. Others want to be demonstrated that it violated Ukrainian law and therefore has no right to stay in the country.
Possible actions
Sand said that they were asked to provide enhanced security guarantees to Ukraine, and that they should respect the decision taken by the security service.
"If she becomes involved, it could trigger unpleasant or dangerous actions. We need a good dialogue with the Ukrainian authorities, we need to follow the tips that are given to us by the security service. We need to create three fantastic nights in Kiev, which needs to be focused on anything but war and poverty. However, the situation in the Ukraine, will have an effect both on journalists who would send out their report, and the possibility of other events."
NRK: will Russia and Ukraine, in your opinion, to use the final for political purposes?
Sand: It is quite inevitable, proceeding from current situation. Can't say that the situation deteriorated as I had feared. We have a good dialogue with both sides. Power and radio broadcasting of Ukraine is well aware that will have to deal with the negative consequences, if you do not hold the Eurovision song contest as it expects the whole of Europe.
Comments
comments