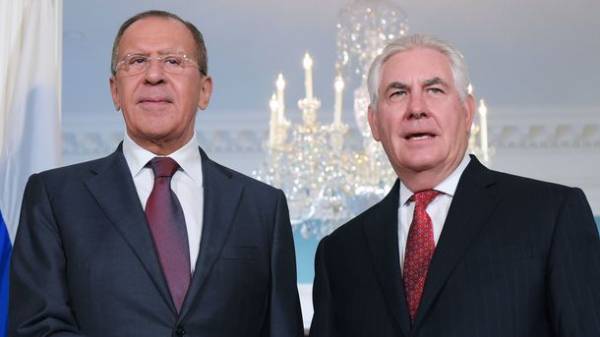 U.S. Secretary of state Rex Tillerson discussed the Ukrainian issue during a meeting with Russian foreign Minister Sergei Lavrov. This is stated in the message of the state Department following the meeting, the TV channel "112 Ukraine".
"As for Ukraine, the Secretary Tillerson stressed the need for progress towards the full implementation of the Minsk agreements. Sanctions against Russia will remain in force as long as Moscow does not cancel the action that caused them," – said in the message.
Also, the foreign Ministers discussed the importance of defeating ISIS, a de-escalation of violence in Syria and provide humanitarian aid to hundreds of thousands of civilians across the country.
"The United States and Russia have agreed to continue discussions to address other issues of bilateral interest, including strategic stability," – said in a statement the state Department.
Earlier, foreign Minister of Russia Sergei Lavrov told his version of how he was meeting with trump. Lavrov said that during the meeting "confirmed that, despite all the difficulties, our countries can and must work together to help solve key issues on the international agenda." "In a nutshell, now our dialogue is free from ideologized, which was typical for the Obama administration," — said Lavrov.
American media cite the words of the President of trump after the meeting with Lavrov. Tram called the meeting "very good.
Comments
comments