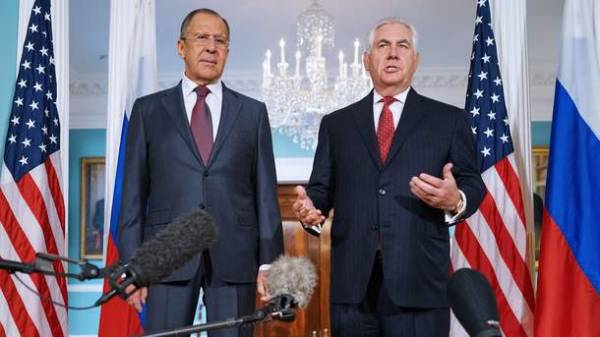 The Secretary of state of the United States of America, Rex Tillerson reiterated the position of his country and other members of the "Big seven" that the return of Russia to this group is possible only after Moscow will restore the sovereignty of Ukraine. About it reports "Radio Freedom".
Commenting on the possibility of returning of Russia in "Group of seven" reporters in the presidential plane on the way to Brussels, Tillerson said: "she was expelled from the group because of the situation in Ukraine. So, to return, she must face the situation in Ukraine. We very clearly let her know what it means: it means advancing with the implementation of the Minsk agreements and implement them, the restoration of Ukraine's sovereignty".
The US Secretary of state added: "I do Not think that while these conditions are not met, until will not be any agreement about how we cope with the situation in Ukraine that is acceptable to the Ukrainians themselves, and acceptable to all members of the group of seven, – I do not expect that it (Russia) will never return."
In addition, Tillerson during the last meeting, said the Russian foreign Minister Sergey Lavrov that the sanctions against Russia over the Crimea will remain in force until the control of the Peninsula will not be returned to Kiev.
"As has been clear, the Secretary of state Rex Tillerson at a recent meeting with Russian foreign Minister Sergei Lavrov, sanctions against Russia will continue to act while she did not comply fully with the Minsk agreement. And sanctions relating to Crimea will remain in force as long as Russia does not return control of the Peninsula to Ukraine", – said the official representative of the U.S. Embassy in Russia.
The talks, Lavrov and Tillerson took place on may 10 in Washington.
Earlier Wednesday, the U.S. state Department reported Tillerson telephone conversation with President of Ukraine Petro Poroshenko.
"The Secretary of state Tillerson called the President of Ukraine Petro Poroshenko to discuss it (Tillerson – ed.) recent trip to Moscow and a message to the Russian leadership that, though the U.S. is interested in improving relations with Russia, Russia's actions in Eastern Ukraine to prevent it," – said in a statement the state Department document.
However, as noted, Tillerson assured Poroshenko that the U.S. "is firmly committed to the sovereignty and territorial integrity of Ukraine" and reaffirmed that the United States will not withdraw from Russia sanctions as long as "Russia will not return full control over the Crimean Peninsula of Ukraine and will not execute fully the Minsk agreement."
Comments
comments