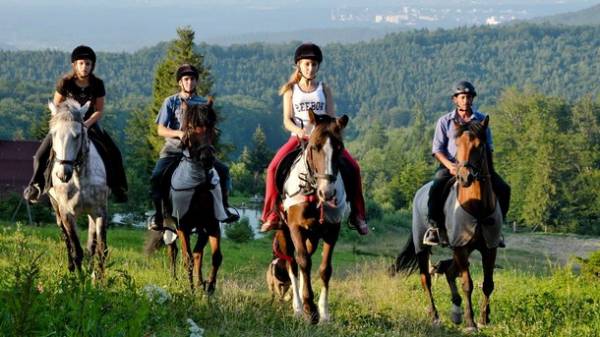 This year Ukrainians traditionally get a little vacation during the may holidays. In total there will be 8 weekends: from April 29 to may 2 and from may 6 to 9. "Today," found out where you can relax in Ukraine and how much can now be celebrated may day abroad.
NEARBY. Ukrainian resorts are already actively preparing for the may day. Average cost of the tour for 3-4 days in Ukraine starts from 1,5 thousand to 3 thousand UAH per person. So, according to tour operators, tours in the Carpathians people already active reserve since mid-March. Among the leaders, the lake Synevyr, Narcissus Valley and tour of the castles of Transcarpathia.
"We've just got less than 100 seats in the may. From 29 April to 2 may offer tours 3290 UAH, and from may 6 to 9 — 2990 UAH for one without the cost of railway tickets. The price includes accommodation in the estate, meals, bus tour, horse ride and picnic" — said the capital's tourism operators.
And in the Odessa region offer a three-day tour to Ukrainian Venice — Vilkovo. Cost — 2685 UAH (us). In Kamenetz-Podolsk week-long tour can be booked for 1700 UAH. The price of all tours includes accommodation in a class hotels 3-4 star, meals, insurance and excursions.
IN THE SCHENGEN AREA. In the top popular destinations in Europe are Poland, Czech Republic and Hungary. So, 3-day bus tour through Krakow, Prague and Budapest in the presence of Schengen you can make in just 68 euros (about UAH 1985).
"The demand Prague and Budapest is largely due to the fact that it can be reached by bus, saving on flights, — says the Manager of one of capital travel agencies Vladislav Kifaru. Five days in Budapest you can spend only 114 euros, while aviatur will be at least 90-100 euros more expensive."
According to him, the may traditionally expensive Amsterdam (300 euros for 3 days plus 280 Euro for the flight), where in may will begin the season of blooming tulips and thousands of tourists from all over the world flock to see the riot of colors.
"Now Amsterdam even more than the capital of romance — Paris (3 days from € 159, plus flights from 300 euros). To spend a weekend in Prague can for 95 euros for 3 days, but the flights will have to pay 200 euros. And tours to the Hungarian capital start from 105 euros and the flight is 90€.
But to spend may day in Georgia will be more expensive. Tour of 7 nights will cost $323 without a flight. The price includes transfers, Breakfast and 1-2 excursions.
The tour operators note that, if you book tickets in advance, will be able to save on the cost of flights to 15-20% and also find a more convenient apartment (closer to the center with convenient logistics).
TO THE SEA. Ukrainians will be pleased with the may and vouchers all inclusive. The most inexpensive boat tours — traditionally in Bulgaria. Week for just $112 (3024 UAH). Holidays in Turkey on April 29, costs $220 (5940 UAH) for 7 nights early booking. Also offer tours in the $270 (7290 UAH), Tunisia. As Egypt grew in price from $400 (10 thousand UAH) for 8 nights.
Lions: rising housing prices. Despite the problems with the garbage disposal, Lviv remains the leader among the hits during the may holidays. there is already in full swing. Over a three-day tour asking from 1400 to 3000 UAH for one. The cost includes railway tickets, transfers, three nights at the hotel with Breakfast, excursions and insurance. But apartment rentals are already starting to go up. "The apartment is there, now they give up over 250 UAH per night, and may be more expensive. From 900 to 1000 UAH per one room regardless of booking date" — say realtors Lviv.
Comments
comments