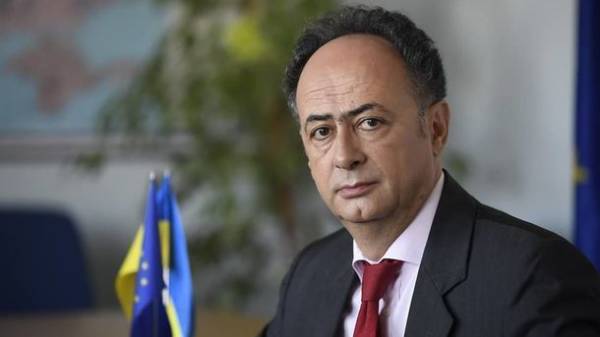 The head of delegation of European Union to Ukraine Hugues Mingarelli noted the existence of tension between the Prosecutor General's office of Ukraine and the National anticorruption Bureau of Ukraine (NABU), however, considers that the Prosecutor General of Ukraine Yuriy Lutsenko and Director of the NABU Sytnyk can find a way of cooperation between them in the interests of the fight against corruption.
"We ambassadors of the G7 had already organized a meeting some months ago between Mr Lutsenko and Mr Sytnik, to look at the causes of this tension and to encourage them to cooperate and not to fight each other. My conclusion from this meeting – for these people it is possible to find a way of cooperation to fight corruption", – said the Ambassador.
Mingarelli also noted the tensions that exist between these structures.
"The Prosecutor General's office has long been concentrated in the hands of quite a lot of power. New on – NABOO – was created on the same "market", of course, there's some tension," added the diplomat.
Previously, the GPU was informed that the employee NABOO with an accomplice arrested on extortion. The Bureau denied this information.
Comments
comments