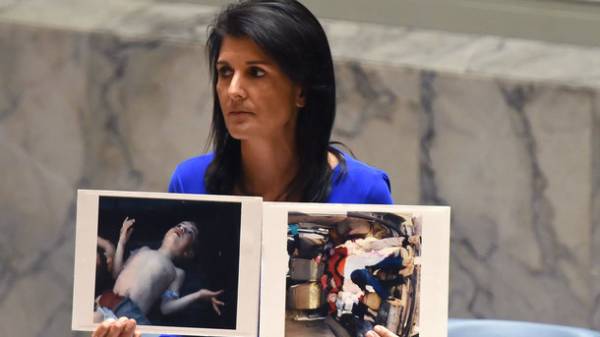 The UN security Council concluded the discussion, but did not vote for the draft resolution on the reports on the bombing with chemical weapons in Syria, writes Radio Liberty.
According to news agencies, after the project dramatically rejected Russia over its text continue to work and will put up for vote later – probably on Wednesday evening local time in new York, though the timing diplomats were not called.
At the meeting, the U.S. permanent representative to the UN, Nikki Haley has sharply criticized Russia and China because they have many times, vetoed a similar resolution on Syria, which said at least kakoi to blame the Syrian government of President Bashar al-Assad. Showing pictures of children injured as a result of the chemical attack, she stressed that, "if nothing is done, such attacks will continue". According to her, Assad has no incentive to stop chemical attacks, while Russia continues to protect his regime from the consequences of such actions.
At this, Hayley said: "When the UN is unable to consistently perform his duty and to act collectively, in the life of Nations there comes a time when we are forced to take action". She did not specify what action he has in mind.
The British permanent representative to the UN Matthew Rycroft also criticized Russia for what she blamed on the Syrian opposition, saying that the aircraft of the Assad regime struck the ammunition depot of the opposition. But, he said, "we have not seen anything that suggests the idea that any non-state forces in Syria have chemical weapons that could cause the symptoms observed yesterday."
Deputy permanent representative of Russia to the UN Vladimir Safronkov, in turn, called these and other statements of the British representative was "absolutely irresponsible, dismissive and unprofessional." He also said that the photos and video from the scene of the attack was "an obvious statement".
Before the consideration of the draft resolution the Ministry of foreign Affairs of Russia has called it totally unacceptable.
As stated by the press Secretary of the foreign Ministry of Russia Maria Zakharova, the project, which has filed the U.S., Britain and France, "anti-Syrian" is based on "fake information" and could further stir up and so complicated military-political situation in Syria and in the region, she said.
Earlier on Wednesday Russia, which is an ally of Syrian President Bashar al-Assad and joined the civil war in Syria on his side against all his enemies, supported the position of Damascus and said that the attack in the town of Khan Shaykhun in Idlib province is really committed aircraft to the Syrian government forces, but his goal was a factory and an ammunition dump.
As reported, the Syrian Observatory for human rights reported that the death toll for the alleged chemical attack in Khan Shaykhun has increased to 72 people.
Comments
comments