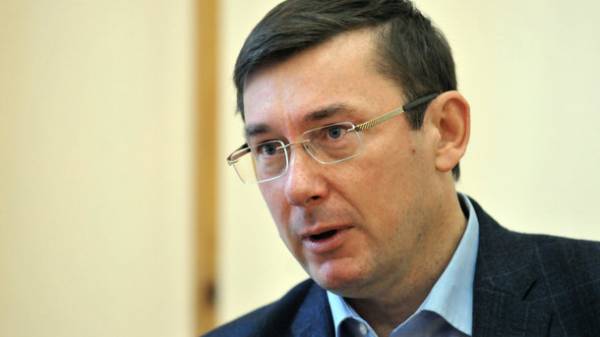 The Prosecutor General of Ukraine Yuri Lutsenko calls on deputies to adopt the law, which will start functioning anti-corruption chambers in existing courts.
"Dear deputies, I really wish that you understood it, I was prohibited by law to talk about the probable corruption in the courts, it can say other, but I have a need to say: judges simply do not. We ship thousands of cases and there is no one to review them. Therefore, I would very much like that you would have considered made recently by the relevant Committee the draft law on the establishment of a specialized chamber within the existing criminal court to examine cases as category "A", – Lutsenko told, reporting in the Verkhovna Rada on Wednesday.
He stressed he was not against the establishment and the new anti-corruption judicial Institute, however, expressed the belief that "to create anti-corruption court as a ward of the existing of the new judges quickly and efficiently".
"I don't mind, would you vote for a law (On the establishment of an anti-corruption court – Ed.)… I'm just in a measure of pragmatism I propose to create a chamber within the existing criminal court", – said the Prosecutor General.
He stressed that the chamber needs to be uniquely new judges, past tests and checks.
"Let's do it, because of the discussion last forever, but thousands of cases are because society doesn't trust all of us. We are all the power", – said Lutsenko.
The attorney General concluded: "I Believe that faster to do it on the basis of the Institute. Think differently, vote differently, but create this court."
As you know, the Director of the National anticorruption Bureau of Ukraine Artem Sytnik says that without the creation of an anti-corruption court cases of big corruption by top officials, can be considered 10 years.
Comments
comments