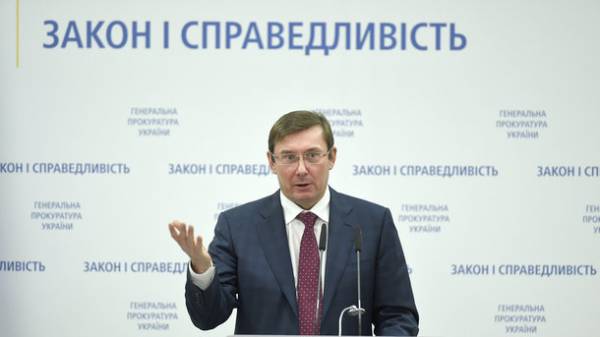 Yuriy Lutsenko: Main scheme of plundering the state at the time of Yanukovych have already been destroyed
The main scheme of plundering the state, who worked during the presidency of Viktor Yanukovych, has already been eliminated. On 24 may in the Verkhovna Rada said the Prosecutor General Yuri Lutsenko during the presentation of his report on the results of the first year in office, reports "Censor.NO."
"Sometimes you can hear that in 2014 in the country, nothing has changed. This is not so! The main scheme of plunder of the state that characterized that time has already been destroyed. At all times was considered the most corrupt "Naftogaz of Ukraine". Now there is a few gas prices, which allowed dealers to sell domestic gas at a price imported abroad, We do not buy gas from Russia and disappeared so-called "presidential Delta". The revised joint venture agreement for the production of energy, which did not work for the state, and to their own pockets," he said.
Also, as noted by Yuriy Lutsenko, the first of June will be fully operational the register of VAT refund, I did not "tax pits" and the system"ProZorro" largely eliminated abuses in procurement.
"We had left with you to restore order at the customs, in the management of public enterprises, to restore order in the use of land, which is state-owned and now generates billions of those who transmits it to the sub-lease, without paying to the budget the real prices of rent," he said .
As emphasized by the attorney General, a year ago, when he was appointed to the position, he knew that for justice to operate within the Law.
"We will act step by step. Law and justice are established ", – said Yuriy Lutsenko.
Comments
comments